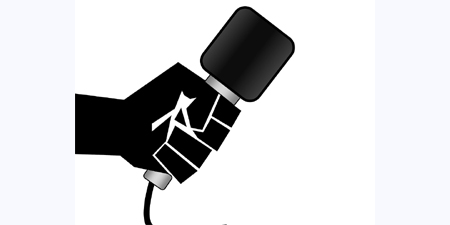 JournalismPakistan.com June 05, 2017


ISLAMABAD - Daily Times Monday called on international media watchdogs to stand with Pakistani journalists and increase pressure on the government to ensure safety of media workers.
In its editorial 'Protect journalists', the paper said when we now hear of violent moves against journalists, our immediate response is to cast suspicion towards the state. This is what it has come to in democratic Pakistan today.
The paper asked if journalist Azaz Syed who escaped a kidnapping attempt last week, would be so lucky next time. Will any of us?
"Today, the ruling regime will go down in history as being one of the most aggressive when it comes to silencing any form of dissenting view," commented Daily Times, whose editor Raza Rumi, himself escaped an assassination attempt in 2014.
The editorial then turned to the Federal Investigation Agency (FIA) that is reportedly probing some 41 people for posting 'anti-state' content on social media and a journalist who approached the Islamabad High Court complaining that he was allegedly threatened with dire consequences for failure to show up for interrogations.
The paper commented that it must be noted that the seeds were sown by the previous PPP government in terms of reducing the breathing space for dissenting views. Not by monitoring social media activity, however.
"We once again call on organizations like Reporters Without Borders (RSF) and the Committee to Protect Journalists (CPJ) to increase pressure on the Pakistani government to ensure the safety of the country's media workers. Enough is enough."