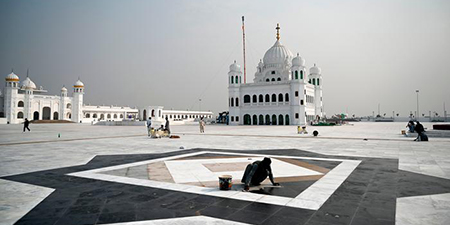 JournalismPakistan.com August 18, 2022 Cherie Conela



"Three years have passed since the Government of Pakistan inaugurated Kartarpur Sahib Gurdwara; it is, in fact, the most valuable gift for Sikh pilgrims," Aarti Kaur, a female Sikh pilgrim, said.
Although adjacent to the Indian border and a few kilometers away from Dera Guru Nanak in India, the tense relations between Pakistan and India had made access to the Gurdwara far more challenging for international Sikh pilgrims for seven decades.
"The partition in 1947 resulted in the tragic division of our most sacred places in the world, attributed to great Baba Guru Nanak," said Kaur.
"The entire Gurdaspur district, where Dera Baba Nanak city is located, became part of India, whereas historic Kartarpur town, across the border, was merged into Pakistani territory."
Talking about the media's role in projecting such initiatives, she pointed out some 'very inappropriate' instances. "Some media reports have shown people entering this holy place without covering their heads, taking selfies on mobile cameras, making tik-tok videos without respecting the religious sentiments of Sikhs."
"Media must understand that every religion asks to spread the message of love, peace, and respect. It is the media's moral responsibility not to highlight any inappropriate activity in the best interest of society."
"No doubt, the opening of Kartarpur Corridor has attracted the attention of both national and foreign media, especially across the border. Since then, many journalists and bloggers are producing informative reports regarding the Kartarpur Yatra, which are being widely appreciated by many viewers worldwide," Sabah Uddin Qazi, a media researcher and editor of Press Network of Pakistan (PNP) said. However, he admitted that some news about violating the sanctity of the holy place also kept emerging in the media.
"As far as the media coverage of Kartarpur Corridor is concerned, if you analyze Pakistani newspapers, you will come to know that our media is portraying the initiative of Kartarpur Corridor as a very positive step."
According to him, various studies suggest that Pakistani media portray the Kartarpur Corridor as a unique opportunity to boost people-to-people relations, religious harmony, and faith tourism.
Talking about an unwanted incident of an 'offensive' fashion shoot at Kartarpur Gurdwara last year, he commented that such behavior must not be accepted at any cost. "There is a dire need to understand that all the holy places of worship are equally respectable, and we must be cautious while visiting there," Qazi said. He emphasized that great care is required while reporting and publishing reports related to religious issues.
"Print media is a key player in floating knowledge on the opening of the Kartarpur Corridor," a research study conducted by a group of Pakistani scholars, Fasih Ahmed, Muhammad Mubeen, and Muhammad Nawaz emphasized. According to this study, print media plays a crucial role in building knowledge and framing the general public opinion through interpreting an issue.
Based on a comparative analysis of prominent Pakistani and Indian newspapers from August 2018 to March 2020, which include Pakistani papers such as Dawn and The News, and Indian papers like The Times of India, and Hindustan Times, the researchers in the preceding study investigated the viewpoints of Pakistani and Indian newspapers. They based their research on the Kartarpur Corridor opening, finding that the agenda of both media is quite different in terms of editorial policy.
"Based on results and discussion, the Pakistani print media sees the Kartarpur Corridor as an opportunity for religious tourism and harmony. There is very little focus on the concerns. On the other hand, the Indian print media raises concerns as a primary agenda compared to other project modalities," the study concluded.
Similarly, another Pakistani researcher Shakeel Shahzad, associated with Comsats University Islamabad, pointed out that the Kartarpur Corridor has triggered a wide-ranging debate in the media on both sides of the border "covering apprehensions and projection in many forms, as well as flagging several concerns and raising questions."
The study, co-authored by Zia Ullah and Imad Khan, further analyzed perspectives conveyed by Pakistani and Indian media regarding media coverage of the Kartarpur Corridor at the time of its opening.
After analyzing news stories and reports published from July 2019 to December 2019 and obtaining the viewpoints of various intellectuals, it was found that Indian newspapers widely discussed issues like pilgrims' access to the site, bilateral ties, visa procedures, security, and safety of pilgrimages and criticism on service charges. The Indian media focuses more on the entry and movement of suspected individuals as "a predicament to broader peace efforts." Moreover, the Indian media also highlighted recurrent costs for pilgrims.
Discussing aspects or issues highlighted in Pakistani newspapers, the scholars maintained that those were mainly related to projecting this corridor opening as a unique opportunity for religious tourism. "From this novel idea, Pakistani print media framed it as a distinctive opportunity for peace as the project fell under the ambit of development and harmony in the region."
Indian concerns, according to the study, were also covered in newspapers, implying a need to build trust between the two countries. The media coverage also highlighted the corridor as a potential business hub and a positive step from the development perspective. The main issues in Pakistani newspapers included bilateral cooperation, tourism, exchange of pilgrims, and interfaith harmony.