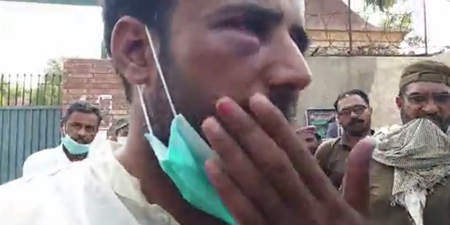 JournalismPakistan.com July 07, 2021


ISLAMABAD—Pakistan Federal Union of Journalists (PFUJ) has strongly condemned police brutality against the president of Bhong Press Club, Asghar Jaffery in Rahim Yar Khan and the registration of a fake case against him.
PFUJ has demanded of the government and the Chief Justice of Pakistan to take notice of the incident.
PFUJ President Shahzada Zulfiqar and Secretary-General Nasir Zaidi said that Jaffery was meted out inhuman treatment by police who hit him with sticks, pulling his nails, and brutally torturing him.
The two leaders accused the police of not taking the journalist to the local hospital on time that caused his health to deteriorate. His colleagues fear that Jaffery might lose one of his eyes.
They said local journalists believe it was all done at the behest of a local MPA of Pakistan People's Party Nabeel Rais which is condemnable. "Such attitude of an MPA of PPP flies in the face of tall claims of PPP Chairman Bilawal Bhutto who asserts that his party believes in the freedom of press and freedom of expression. If the PPP wants to prove that there is no dichotomy between what the party says and what it does, then it must take action against the concerned member of provincial assembly."
The union said that the police had summoned Jaffery a few weeks ago asking him not to write against the MPA warning him of dire consequences. "Local journalists believe that Jaffery has been punished for writing against the member provincial assembly and complaining against a corrupt police officer."
PFUJ leadership bemoaned the attitude of the police that registered an FIR against Jaffery instead of bringing those who tortured him to justice. "This amounts to rubbing salt to the injuries of the victim and belies the claims of Prime Minister Imran Khan that his government does not believe in treating the people from bottom layer of social stratification differently from the ones who have influence and power. The attitude of police clearly indicates that it sides with the feudal lords of the area and does not believe in helping the victims."
The union leaders demanded of the government to take immediate action against the police officials responsible for torturing.