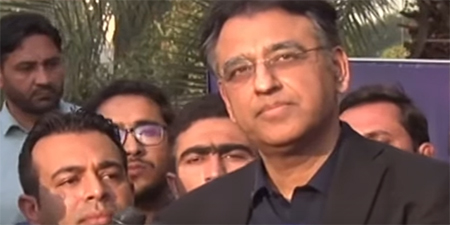 JournalismPakistan.com November 16, 2021


ISLAMABAD—Daily Pakistan Today, in its editorial published on Monday, criticized the statement of Planning Minister Asad Umar, emphasizing that: "Given the spate of attacks on media persons in recent months, his statement is both highly inappropriate and in poor taste."
Titled Media and PTI, the editorial highlighted that: "In addition to having to operate in a suffocating environment dominated by a constant fear of suspension of broadcast or circulation, forcing self-censorship in order to remain financially viable as a business, there is also a looming threat of violence against journalists, incidents of which have increased in the past three years."
According to the paper, the media landscape in Pakistan, especially for conventional print and electronic mediums, has changed considerably under the PTI government and not for the better.
"Federal Minister for Planning Asad Umar has threatened to beat up the PDM and the media that 'supports' the opposition alliance "black and blue" if they advance towards Islamabad."
"It is also a bit rich coming from a senior leader of a party that held a sit-in for 126 days in the capital during the PML-N's tenure, a protest that Mr Umar comprehensively participated in."
According to the paper, such warnings display fascist tendencies unbecoming of a party that claims to be a strong proponent of democratic values and press freedom. "It seems the government's expectation from the media with regards to covering and reporting on its policies and actions is to focus on the positives and ignore the negatives, which is a tall ask considering the precarious condition of the economy, law and order and governance in the country presently," it noted.
"The PTI must stop perceiving and treating Pakistan's media as an enemy and should rather pass sensible laws that strengthen legal recourse to defamation and libel cases to allow and facilitate meaningful action against the real enemy: fake and slanderous news," it concluded.