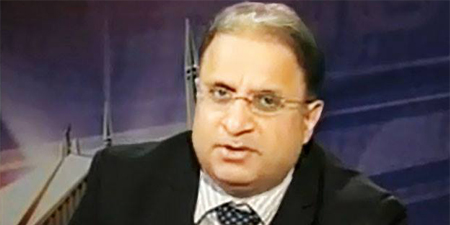 JournalismPakistan.com June 18, 2017


Newspaper columns attempt to clarify corruption allegations against Rauf Klasra
ISLAMABAD: Two columns in Roznama Dunya Sunday attempted to clarify allegations of corruption against Rauf Klasra – one written by the anchor himself and the other by Haroon Rashid.
In recent days Klasra (pictured) got involved in a bitter Twitter match with DawnNews' journalist Mubasher Zaidi - one of three hosts of talk show Zara Hut Kay.
In one of his tweets Zaidi alleged Klasra "got his wife inducted in Senate, got his brother inducted in APP, got his nephew employed in PTV & hold 3 govt residences in Islamabad?"
Klasra shot back: "After failing to find anything against me, cowards attack my wife job she doing even before marrying me. Liberal or fascit faces of Dawn..!"
He also quoted from ZA Bhutto's book "I am assassinated" in which the former prime minister complains about Dawn turning against him once his government was overthrown in a military coup in 1977.
In his column "Son, you can't handle the truth" Klasra maintains his wife was a government employee before arriage. Haroon Rashid's column "Klasra kay makan ka qazia" backs him, saying Klasra's wife was a Senate employee for six months at the time of their marriage in mid-1998.
The episode brings in Matiullah Jan, at one time with DawnNews. His show Apna Gareban created a ruckus for highlighting alleged corruption of journalists. In one of such program, Klasra went after the Dawn owners, saying how they made money and took other benefits from successive governments. Apna Gareban was later discontinued and Matiullah had to leave DawNews.
Klasra takes an aggressive tone while recalling the Matiullah Jan episode. "Six years back in 2011 friends did a program alleging I got my wife a government job, and got a house allotted. I went to the show and defended myself."
He goes on to narrate the allegations made against the owners of DawnNews. "I said you started the tradition of using journalism for personal and business interests when your editor became a minister in the cabinet of General Ayub. Another owner became Sindh Governor. Another owner became interior minister of Ziaul Haq. The third owner got his brother appointed envoy from Zardari."
Klasra says after that the show discontinued, and its anchor and director news got dismissed. "Once again my friends are repeating those old allegations. I dare them to call me to their program."
Klasra also hinted at going to court against these allegations. "I have to take the help of my friend Dr. Babar Awan. Let court and FIA decide about how much corruption I have done. Last year I paid Rs5.5 million in taxes which is more than Nawaz Shairf and Ishaq Dar."
Matiullah on June 13 quoted a Klasra tweet in which he laments "shameful fall of journalism" to ask if Klasra is "lashing at corrupt sherwanis & licking corrupt boots."
During the tweeting match, a 2009 article on Pkpolitics.com was also quoted which alleges the I-type House No. 6 in Street 9, F-6/3 allotted to Klasra's wife was in the use of Dr. Zawar Zaidi, chairman of Pakistan Papers.
The I-type houses are reserved only for Grade 21-22 officers. The article adds: "The house was forcibly vacated from Dr. Zaidi and subsequently, the 81-year-old Dr Zaidi, who had to leave for Lahore in shock and disbelief, died after three months. This house was allotted to Klasra's wife, Shahwar Faryal, but was vacated when the issue of illegal and non-entitled allotment was taken up by the media and comprehensively discussed in famous AAJ TV program Bolta Pakistan by Mushtaq Minhas and Nusrat Javed of 15th December 2008."
In his column Klasra maintained that he and his wife did not know that she had been allotted a house reserved for Grade 21-22 officers. He said he called Sami Khilji, then secretary housing, who said that as no other house was available, therefore this was allotted. Klasra claims he did not accept the allotment of the house, though there may have been delay in re-allotment leading to controversy.
He said his relatives had equal right to get a government job as they were not Indian citizens.