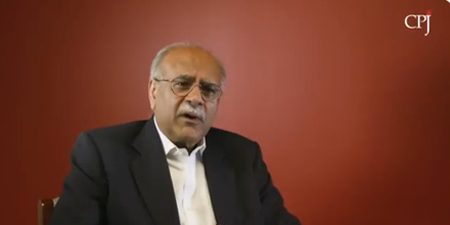 JournalismPakistan.com September 13, 2019


ISLAMABAD — Veteran journalist Najam Sethi says things are really bad in the Pakistani media.
Speaking to the Committee to Protect Journalists, he said he had lived through many authoritarian regimes and periods of censorship. "But what is happening now is unprecedented."
"Every time we ask a question, our credentials are challenged. We are accused of being treasonable. Efforts are afoot to gag us."
The censorship is such that "we are told we cannot use certain words; we can't interview certain people. We cannot show demonstrations by a certain political party. One by one, they are taking off anyone who is outspoken."
Sethi said the channel he worked for — 24 News — was taken off air for four days once, and then three days because of things he said.
"The fact that they can pull the plug on you, the fact that there is nothing you can do is a huge disincentive for freedom of press."
He said people are wary of criticizing the national security instiutions, and rightly so. But at the end of the day, when these institutions meddle in politics, then they bring themselves into disrepute.
He pointed out that pressure comes from various sources. "One phone call from anyone who is anyone in the organs of the state — to the cable operators to take a channel off and they will do it. It kills you because if your channel is not being shown, the advertisers pull out. There's no revenue, you can't pay your salaries, and then you have to layoff staff. That's what is happening."
Sethi said that the courts have to protect the media. "If the courts protect us things would be different. International organizations have to raise a hue and cry every time an untoward thing happens. But more than anything else, we have to stand up and resist. It is not going to be easy. There's a price to be paid for it."