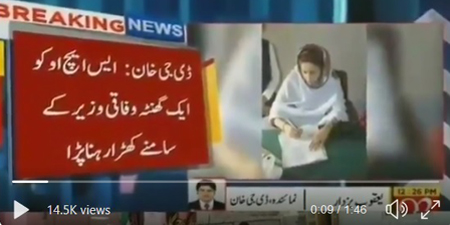 JournalismPakistan.com November 07, 2018


ISLAMABAD – Zartaj Gul Wazir, State Minister for Climate Change has slammed 92 News for allegedly running fake news about her.
"I vehemently condemn shameless false reporting done by Channel 92 about me! Professionalism would have prompted them to verify a malicious piece of propaganda before they released it on air! Our Govt will come down on #FakeNews like a ton of bricks!," she tweeted.
In a video posted on Twitter, she said the channel's DG Khan Correspondent had reported she made the local SHO stand for one hour as she signed a document relating to smuggled vehicles.
According to Ms. Wazir, the news channel reported that she also had some vehicles among that lot.
She said it was a pity the correspondent did not even bother to check with the local police or the military before going on air.
Ms. Wazir claimed that her photo shown with the report signing a document was of another event elsewhere. The border police had an issue that needed to be settled, and she recommended and signed the paper they had brought.
She said that she would soon post that letter on social media. She asked 92 News if she hands over that authentic letter to the channel, would the DG Khan correspondent be removed for false reporting and propaganda?
She pointed out that the channel had lifted pictures from her social media pages, and asked if she had to do corruption, would she be posting those pictures on social platforms.