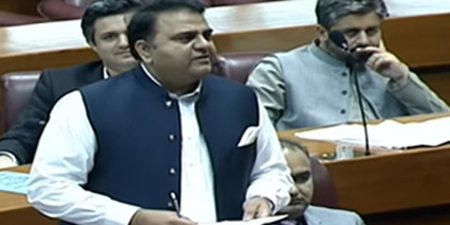 JournalismPakistan.com February 21, 2019


ISLAMABAD: The National Assembly was informed on Thursday about the lack of reconciliation between the TV license fee collected by Pakistan Electric Power Company (PEPCO) and the amount remitted to Pakistan Television (PTV).
Minister for Information and Broadcasting Fawad Chaudhry said there is no procedure of reconciliation of such collection and deposit to PTV. "PTV completely depends on PEPCO data and whatever is remitted to PTV is acknowledged."
He was responding to a question by Pakistan Peoples Party legislator Abdul Qadir Patel on various aspects of the TV license fee in the electricity bills. The PPP lawmaker had asked about "year-wise collection of such fee from each distribution company and deposit thereof in the accounts of electricity during the last ten years" and the " procedure of reconciliation of such collection and deposit by PTV and collecting companies."
However, the minister added the present PTV management is analyzing the whole data provided by PEPCO and observed that there are amounts which have been received by PEPCO, but due to some procedural issue, the same has not been remitted to PTV. "PTV management is now in touch with PEPCO and trying to reconcile and collect the unpaid amounts."
Chaudhry said TV license fee was included in electricity bills from July 2004, adding that the National Assembly empowered the government to charge TV Fee in electricity bills through Finance Act, 2004­2005.
The minister informed the house that in 2004 the license fee was Rs25 for domestic and Rs60 for domestic consumers. Both the slabs were increased by Rs10 each in 2010.