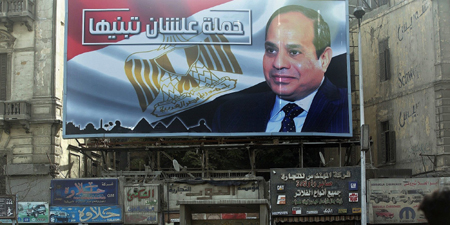 JournalismPakistan.com March 03, 2018


CAIRO, Egypt - Media in Egypt faces increased scrutiny and restrictions by authorities ahead of a presidential election this month incumbent Abdel-Fattah el-Sissi will dominate, critics say.
The president, addressing media, warned on Thursday against "defamation" of security forces, a day after his prosecution warned it would take legal action against "false news."
Egypt ranks 161 out of 180 countries in press freedoms according to watchdog Reporters Without Borders' 2017 Press Freedoms Index.
The government's warnings to media are not new.
Sissi, a former army chief elected as president in 2014 a year after toppling his Islamist predecessor following mass protests, had previously asked the media to exercise caution in criticizing officials.
But in recent months, authorities have blocked about 500 websites, including media outlets like Al-Jazeera and the local Mada Masr, while journalists have been arrested.
A reporter for the Huffington Post's Arabic website was detained last month after publishing an interview with prominent dissident Hisham Geneina who mentioned the existence of documents that are damaging to senior state officials.
At least 29 journalists are in detention, according to Reporters Without Borders, including some accused of working for media affiliated with the banned Muslim Brotherhood group.
Some of the restrictions are unprecedented.

"Egypt has never seen an [internet] blockage since the start of the internet," said Mohamed Taher, a researcher with the Association for Freedom of Thought and Expression in Egypt.
Authorities did cut off the internet for a day in 2011 as they tried to stifle an uprising that ousted strongman Hosni Mubarak but did not seek to permanently ban scores of websites.
The government has not confirmed or denied its role in the blackout, but Taher said internet providers do not block websites without a request from authorities.
For some outlets, the measure has impacted their operations. One site, Masr Al-Arabia, had to reduce staff by 60 percent, according to Adel Sabry, an editor.
"Many sources refuse to speak to a blocked website," he added.
The government has also increased criticism of foreign media, which had been a frequent target of attacks by politicians over the years.
It often accuses foreign journalists of biased coverage of the country, especially when it comes to human rights abuses.
The government's State Information Service called for an official boycott of the BBC last week after a report on abuses in which a woman claimed her daughter had been forcibly disappeared by security.
The daughter later appeared in an interview on a local television station, saying she had run away, married and had a child. The BBC said it stood by the "integrity" of its reporters.
The report appears to have prompted the prosecution statement saying its lawyers would take action against outlets that publish "false news" and "news and rumors that harm public safety."
Much of the domestic media is seen as generally pliant, and criticism of Sissi is rare.
"There is no direct instruction or censorship, but [journalists] censor themselves" out of fear or opportunism, said a journalist who works for a large private channel, and requested anonymity.
Rights activists say the authorities have become more restrictive in general, showing little tolerance for dissent.
In the run-up to the poll, Sissi's would be rivals have been sidelined or withdrawn from the race, saying it would not be a fair election.
One of them, former armed forces chief of staff Sami Anan, was detained shortly after announcing his candidacy.
The military accused him of illegally standing in an election while still a registered reserve officer. - AFP