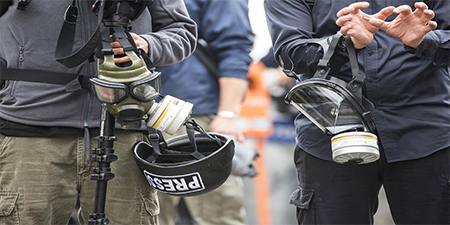 JournalismPakistan.com May 07, 2022


ISLAMABAD—Leading international media organizations, on the occasion of World Press Freedom Day, have urged the Pakistani government to protect the rights of media persons.
Pakistan plunged 12 places in Reporters Without Borders' annual press freedom ranking for 2022. Pakistan was 145th on the 2021 index and fell to 157th on a list of 180 countries in 2022.
"Despite changes in political power, a recurring theme is apparent: political parties in opposition support press freedom but are first to restrict it when in power," the RSF stated.
The RSF also acknowledged that Pakistan's English-language press has "a strong tradition of independence and "serves as a showcase for the two leading media groups, Jang and Dawn".
Similarly, the International Federation of Journalists (IFJ) has ranked Pakistan the fifth most dangerous place for the practice of journalism.
The US Secretary of State Antony Blinken, during a special news briefing in connection with the Press Freedom Day, also expressed concern about the state of the media in Pakistan.
According to him, "a vibrant free press, and an informed citizenry, is a key for any nation and its future, including Pakistan." However, the "practices we see" in Pakistan "undermines freedom of expression. They undermine peaceful assembly. They undermine Pakistan's image as well as its ability to progress," he stated.
Expressing concern over the state of press freedom, the Pakistan Federal Union of Journalists (PFUJ), in a joint statement issued by President Shahzada Zulfiqar and Secretary-General Nasir Zaidi, said: "In at least nine cases, journalists were intimidated or silenced altogether, whether in the form of assault, enforced disappearances, murder or overt censorship."
Pakistan remains among the top 10 countries where predators of attacks on journalists and media go unpunished. Reportedly, 138 media persons in the country had lost their lives in the line of duty between 1990 and 2020.
Besides fatal attacks, Pakistani journalists face other kinds of harassment such as online trolling, kidnappings, enforced disappearances, imprisonment, and torture.
From JournalismPakistan archives:
World Press Freedom Day: Free media vital to sustainable development - UN
'No progress on freedom of press in Pakistan'