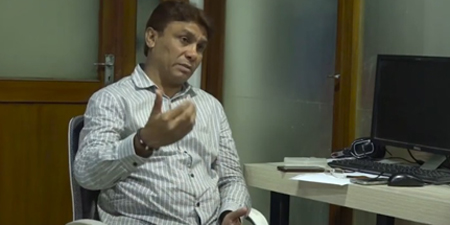 JournalismPakistan.com July 14, 2019


ISLAMABAD — Imtiyaz Khan Faran, President of Karachi Press Club, says the situation and freedom for journalists working in Karachi have deteriorated in the past six months.
In an interview with Freedom Network, he said a section of the community was in fear while the rest were angry, and that anger was growing.
He pointed out that since journalists faced threats, state institutions should stand behind them in this challenging hour — "not to support us but to protect us."
"No journalist in Pakistan is working against the state, but to give one's point of view on a particular subject does not mean a journalist is anti-state."
He said journalists should not be abducted because journalism is not a crime. "I think doing so brings a bad name to the country internationally."
He called for setting up of a committee at the federal and provincial level with the representation of leading press clubs and unions of journalists, to protect journalists and freedom of the press. Such a committee should also have members of other relevant institutions on board like the National Counter Terrorism Authority (NACTA).
"We can extend great help to such institutions, and I think NACTA should have links with the journalist community with the information ministry also playing its part along with of course the press clubs and UJs."
Imtiaz said that freedom of expression was in danger in the country and the cyber crime cases against journalists are often fabricated with the complainants turning out to be culprits themselves. "It only angers the community."
He said the federal and the provincial governments were not playing any role whatsoever for ensuring media freedom and protecting journalists.
Watch the interview here