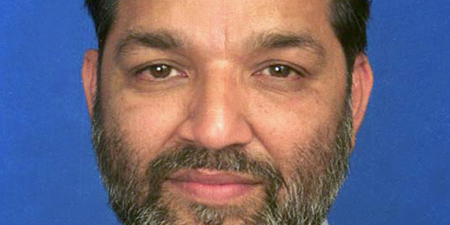 JournalismPakistan.com June 08, 2020 Imran Naeem Ahmad



ISLAMABAD—Pakistan's legendary photojournalist B. K. Bangash who covered Zulfiqar Ali Bhutto's hanging, Ziaul Haq's martial law, and the civil wars in Rwanda and Afghanistan in a career spanning 42 years is retiring this month.
He will quit as the Pakistan photo chief at the American news agency, The Associated Press, on June 30 after an association of 33 eventful years.
Bangash, who went to the Tisch School of the Arts in New York, where he did his major in photojournalism, believes Pakistan has not benefitted from the technological advancements in this field.
"When the owners of news organizations start acting as editors who know nothing about photojournalism, the rot was bound to set in," Bangash told JournalismPakistan.com on Monday.
He pointed out that the hundreds of television channels in Pakistan had left the print media in somewhat of a backseat. "I see no future for photojournalism here because there's no demand for good work."
His own career though has been five-star, and he has seen and covered it all—events leading up to Bhutto's hanging, the floggings during Zia's era, former Afghan President Najeebullah's execution by the Taliban, the civil wars in Rwanda and Afghanistan, Khandhar plane hijacking, earthquakes, floods, and more.
So dynamic has been his career that he also covered sports competitions, among them the cricket and hockey world cups, Asian Games, and a string of other major national and international events.
Bangash started his career with The Muslim newspaper in 1978 as a junior photographer and quickly made his mark. "I was trained by Mr Salim Asmi and late Mr Ahmad Hasan. They not only guided me but worked hard to help me improve my work during the early days of my job."
Seven years later, he got chosen for a UNESCO photography scholarship in Budapest (Hungary) where he learned the finer points of his trade, and then went to New York to pursue a two-year course in photojournalism.
He returned to Pakistan in 1987 to briefly work in Islamabad for the Frontier Post under the iconic editor Aziz Siddiqui. Later that year, he formally joined The Associated Press (AP) and worked with the likes of Brian Wilder and Kathy Gannon.
He sees the Rwanda Civil War as his most challenging assignment. "It was tough because we had to set up everything there early on to ensure uninterrupted coverage of events, and I was there for three long months."
As he now prepares to leave the scene, Bangash smiles as he recalls the days at The Muslim, when photography was in black and white and analog. "Those were difficult days, going out in the field and then returning to get the photos developed in the darkroom. It was time-consuming."
He then witnessed and experienced the transformation from black and white to color, and then the digital photography that is now in use. "Things are a lot easier now for photographers."
Bangash is the son of late Moinuddin Khan Bangash, who retired as a photo editor at the Associated Press of Pakistan (APP), and at one time worked at The Associated Press. BK's younger brother Saeed Bangash is also a senior photojournalist and works for the Agence France-Presse (AFP).
To get to where he is today, Bangash owes it to Shakil Qaiser, the chief photographer at The Muslim. "He mentored me, and I still consider him the best photojournalist I have come across in my professional life."