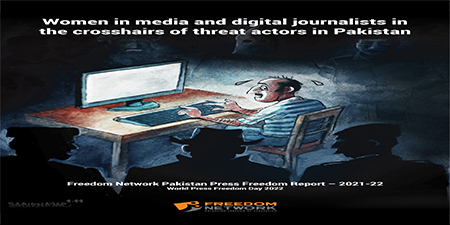 JournalismPakistan.com April 29, 2022


ISLAMABAD—The Freedom Network, in its annual report on the World Press Freedom Day, has termed Islamabad as the most dangerous place for journalists.
The FN highlighted that at least 86 attacks and violations against journalists and media practitioners were reported in Pakistan in the one year between May 3, 2021, and April 10, 2021, across all territories of Pakistan, including the four provinces Islamabad, Gilgit Baltistan, and Azad Kashmir.
The top three categories of violations against the Pakistani journalists included:
Thirteen legal cases filed against them (15%) and 13 cases of offline harassment (15%).
Eleven instances of illegal detention by the authorities (13%).
Nine cases of attempts to murder (11%) and nine cases of verbal threats (11%).
These six categories of violations – legal cases, offline harassment, illegal detention, attempt to murder, and verbal threats – constituted 65% of the 83 categories of violations against media in Pakistan.
"Overall, Islamabad emerged as the riskiest and most dangerous place to practice journalism in Pakistan with 37% of the violations (32 out of total 86 cases) recorded in the federal capital. Sindh was the second worst with 27% of the violations (23 cases) and Khyber Pakhtunkhwa (KP) the third most dangerous with 19% (16 cases). These were followed by Punjab with 13% (11 cases), Balochistan with about 2% (two cases) and one case each from Azad Jammu and Kashmir (AJK) and Gilgit-Baltistan (GB)."
Of the total 86 attacks and violations against journalists recorded in Pakistan in the period under review, TV medium emerged as the single largest victim of the type of media, with at least 39 (45%) of the cases against its practitioners compared to print, radio, and internet. Print media was the second most targeted medium, with 35 journalists targeted (41%), while 12 cases (14%) were recorded of online journalists targeted. No targeting of a radio journalist was documented.
In at least 12 of the total 86 violations (or 14%) against media practitioners in the period under review, the targets were journalists working with digital media. These included two of the four journalists killed, the FN noted.
In at least 3 of 86 violations against media practitioners in the period covered, the targets were women journalists receiving threats of dire consequences or harassment.
Illustration courtesy: Freedom Network
You may also like to read:
Freedom Network report reveals how Pakistan's legal system has failed the murdered journalists