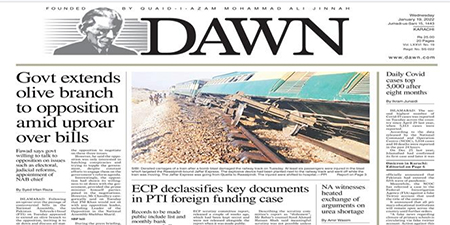 JournalismPakistan.com January 22, 2022


ISLAMABAD—The Embassy of the Islamic Republic of Iran in Islamabad has rejected "baseless accusations" against Tehran by Dawn newspaper regarding a conflict between the UAE and war-torn Yemen, demanding that a clarification be published in the paper under the law of the press.
In a statement issued, the Press Section of the Islamic Republic of Iran's Embassy in Islamabad said that an editorial published in the esteemed Pakistani daily newspaper "Dawn" on Wednesday, January 19, 2022, under the headline "UAE was targeted," made negative and baseless accusations and allegations against the Islamic Republic of Iran.
According to the statement, the Dawn editorial accused Iran of supporting the attack on the UAE without providing any evidence or documentation. Furthermore, while the UN has confirmed that Iran was not engaged in the attack on Aramco oil facilities, it is unclear on what basis and with what proof the publication made the accusation.
"Regarding the published material and the baseless accusation of Iran's role in the attacks on Aramco oil installations, while explicitly and seriously denying this accusation, the esteemed editor is requested to take note of the UN report on this incident, which states: The United Nations has not found any evidence that the Islamic Republic of Iran was involved in this incident and rejects such a claim," it noted.
"It is expected of your esteemed daily newspaper to refrain from publishing articles without sufficient research on their accuracy and authenticity," it further stated.