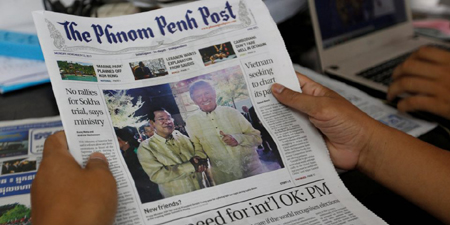 JournalismPakistan.com May 09, 2018


The Phnom Penh Post, seen as the last independent daily in Cambodia was sold to a Malaysian investor, with ties to Cambodia Prime Minister, Hun Sen, on May 5, 2018.
The International Federation of Journalists (IFJ) has expressed concern over the decision and the sacking of the editor-in-chief which followed.
On Saturday, the Australian owner of the Post, Bill Clough announced the sale of the English language daily to Malaysian investor Sivakumar G. The deal came after months of speculation over the future of the newspaper. It was recently hit by a USD5 million tax bill, which will now be paid by the new owners.
On Monday, the editor-in-chief of the Post, Kay Kimsong was fired, after the new owner took grievance against the Post's coverage of the sale. In one article the Post noted that Asia PR, a firm owned by Mr Sivakumar, once ran the pro-government Cambodia Times newspaper in the early 1990s. Mr Sivakumar did not take over Asia PR until 2011, years after the Times had closed.
The authors of the story, Brendan O'Byrne and Ananth Baliga announced that they had resigned after they were asked to take the story down. O'Byrne said he had "refused and offered my resignation, which was accepted. I wish the fantastic journalists at the Post all the best".
Baliga said he "will not be returning to work at the Post. I am devastated at the prospect of not being able to work every day with some of the best journalists I know".
In all 23 staff members resigned from the Post on Monday, and in a joint statement said "Representatives of the new owners arrived today and ordered that staff remove the article from our website. They did not cite any specific factual inaccuracies. As a direct result, they also fired our editor-in-chief. All the undersigned express our disgust for this decision made in contradiction to the values of a free press."
The IFJ said: "The sale of the Post highlights the lengths of which the Hun Sen government will go to control the media in the lead up to elections. As we continue to monitor the situation in Cambodia, we stand in solidarity with our colleagues who are facing continued pressures and a difficult working environment. Democracy cannot exist without press freedom, and the press is an important component of free elections, yet this government-led crackdown raises questions about the upcoming elections for Cambodia." – IFJ media release/Photo: Reuters