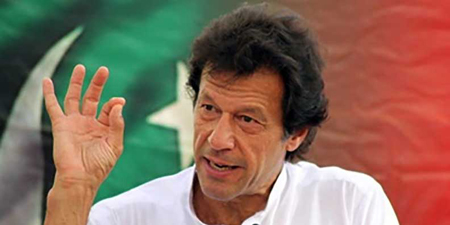 JournalismPakistan.com June 17, 2017


ISLAMABAD - Imran Khan, Chairman Pakistan Tehreek-e-Insaf, Saturday dubbed Mir Shakilur Rehman as the "Godfather of media" who was backing the ruling party against the JIT and Supreme Court.
He said this during a press talk in Islamabad, prompting a flurry of tweets from Jang-Geo Group journalists.
Editor Investigations at The News, Ansar Abbasi tweeted: "Now it has to be seen that when the order to stone the Jang-Geo building is given."
During the 2014 sit-in by PTI, the Jang building was often pelted with stones, allegedly by party supporters.
In another tweet he claimed that "Jang Group is being targeted for exposing the 'game plan'."
Investigative journalist Umar Cheema maintained Imran Khan "has polarized politics through either with us or against us approach. Supporting you don't make one honest & the vice versa."
In the meanwhile, PTI spokesman Fawad Chaudhry, involved in a bitter verbal match with Umar Cheema during a television talk show, announced boycott of the Geo Group.
"Owing to a biased one-sided coverage of Jang group as protest We are withdrawing our representation from all forums run by Geo group #PTI".
During the 2014 PTI sit-in, Imran's party and Jang-Geo openly opposed each other. The leaders stopped appearing on Geo talk shows.
Taking matters lightly, DawnNews' Zarrar Khuhro tweeted: "PTI has boycotted Geo for the 543,765th time. This time for realz tho."
Murtaza Ali Shah, a Geo-Jang correspondent in London, alleged Imran Khan is "acting like 'Sicilian Mafia' and 'Godfather'. He's using the same cheap tactics he used during two failed dhernas - and failed."
There was also talk of tweet by Geo's Azaz Syed alleging JIT member Bilal Rasul's relationship with PTI. However, Syed later apologized for the tweet, saying "a credible friend has pointed out that picture I shared was fake. Apologies 2 @PTI official, @IMrankhanPTI, Bilal Rasul and the lady."
Cheema maintained that instead of appreciating Syed's apology, "PTI trolls hurl abuses not realizing their party is notorious for baseless allegations & never apologized."
Usman Manzoor, The News reporter, tweeted that Fawad Chaudhry be asked if he has changed parties or PTI has boycotted Geo TV more?