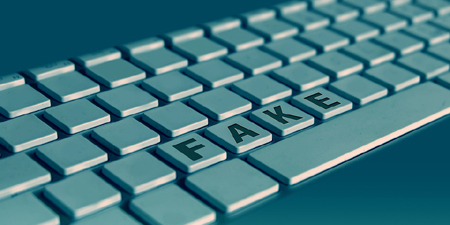 JournalismPakistan.com December 24, 2020


ISLAMABAD—What should one do if one wants to establish a fake media outlet with fake journalists? What steps should be taken, and which resources used to copy genuine and credible media organizations? And importantly, who should operate fake media outlets?
EU Disinfo Lab provides answers to these questions. Its recipe for setting up a fake local media outlet with fake journalists is based on its report Indian Chronicles, made public this month.
In 2019, the EU DisinfoLab uncovered a vast network of 265 coordinated fake local media outlets in 65 countries serving Indian interests and multiple dubious think tanks and NGOs. This network was active in Brussels and Geneva to produce and amplify content designed to, primarily, undermine Pakistan.
Based on its study, it has prepared a step by step "guide" on how to establish a fake media outlet. However, it warns this has been done "in a light-hearted way."
It also adds that creating fake media remains one of the main tactics employed by disinformation actors. "Be wary of all the signs…and as always: think before clicking and think before sharing."
The first step is to find the right name—a catchy name reminding people of a real newspaper serves the purpose. It is also better to pick the name of a dead newspaper. "In 2019, Indian Chronicles came up with the Times of Los Angeles, Times of Moscow, and MSNBC.UK, so you'll have to be more imaginative! You can also be bold and develop the Times of North Korea, edited from Pyongyang."
Don't forget to find an excellent graphic designer for a fake logo that should look real.
What should be the work address? Establish a virtual office in Regus at one of their addresses. "Regus offers a wide variety of virtual offices so you can claim a fake local anchorage. Just pick the one you prefer using their search engine."
Now that you have a virtual office establish a website and Twitter account. "Buy a domain name providing false pieces of information, so that nobody will bother you. Also, don't forget to mention you're full of ethics, but never disclose any name so as not to face any consequences."
When it comes to the team of the fake media organization, be imaginative. Invent names for the editorial staff—from chief editor to correspondents.
Now the all-important question of content production. The answer is simple— copy-paste content. "Take as much content as you can from legitimate sources. It will make it look like you have a big newsroom." Additionally, "don't forget to copy-paste the whole content and not only half of it!"
Go full throttle and copy-paste everything. "There are many other things you can copy-paste: privacy policies, legal mentions, advertisements, etc. Remember, you're not a real organization, so don't worry about regulations…"
Now you are ready to contact the decision-makers and make them believe you are a big independent media platform. "With a bit of luck, big news agencies such as ANI might cover your new media within days of your creation."