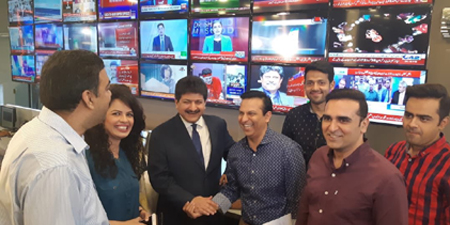 JournalismPakistan.com August 10, 2018


ISLAMABAD – Hamid Mir, the face of Geo News and host of the program Capital Talk has joined the soon to be launched GNN Television as president.
Insiders tell JournalismPakistan.com that Mir visited the offices of his new employers and was introduced to some of the team members.
It could not be immediately known if the senior presenter would serve out the mandatory notice period at Geo.
Before joining Geo, Mir was associated with different newspapers. He regularly writes columns for both Urdu and English newspapers.
He is a recipient of civil award Hilal-i-Imtiaz and the Free Press Award as the Most Resilient Journalist. Mir interviewed Osama bin Laden after the September 11 attacks.
He comes from a literary and journalistic family. His father Prof. Waris Mir was a columnist with Jang newspaper.
He has survived two assassination attempts because of his reporting, and still has two bullets in his body from an attack in Karachi on April 19, 2014.