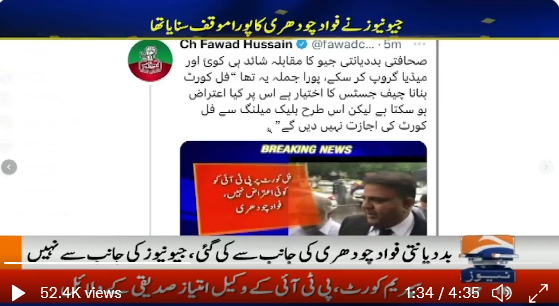 JournalismPakistan.com July 26, 2022 Cherie Conela



ISLAMABAD—Geo News has strongly condemned PTI leader Fawad Chaudhry's statement that the channel was involved in 'journalistic misconduct.'
Geo News, presenting the facts in the news bulletin, accused Fawad Chaudhry of lying, not Geo News.
In the context of his conversation with Geo News regarding the recent political turmoil, Chaudhry alleged that "... no other media group could compete with the 'journalistic misconduct' of Geo News." He also shared a screenshot of Geo News on Twitter.
However, Geo News, in response to Chaudhry's tweet, said the PTI leader had distorted the facts. The channel had broadcast three breaking news templates in full conversation. "Chaudhry chose to share only one template to malign Geo News and damage its repute."
A few days ago, PTI Chairman Imran Khan's Chief of Staff Shahbaz Gill accused Geo News of fabricating a story. He said Imran Khan did not exclusively speak to Geo News. According to him, the media house came up with a "fabricated story" as its "ratings were going down."
"[We are] boycotting Geo News for its yellow journalism and working as PML-N's media cell," Gill tweeted.
However, Geo News reporter Azam Malik, who broke the story, shared an account of his meeting with the PTI chairman on live TV to debunk Gill's claim.
PTI leaders believe that Geo News is involved in favoring their political opponents. During the previous government of PML-N, PTI had boycotted the TV channel for a long time, and no leader participated in its talk shows. However, the boycott was lifted after Imran Khan came to power in 2018.