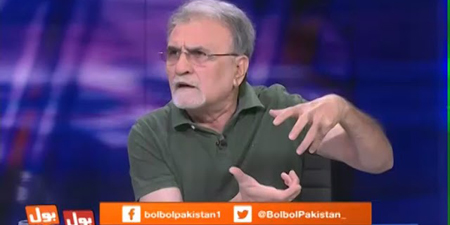 JournalismPakistan.com November 04, 2018


ISLAMABAD – DawnNews Television is continuing to lay-off staff with senior journalist and analyst Nusrat Javeed (pictured) becoming the latest victim.
Insiders tell JournalismPakistan.com the management has told Javeed his program 'Bol Bol Pakistan' is being taken off the air, and that he would be served a one-month notice.
However, those in the know, say the analyst told the managers he would rather leave immediately than to serve out the notice period.
The management is reportedly cutting jobs because of financial difficulties.
Bol Bol Pakistan, aired Monday through Thursday, is now unlikely to be screened at the start of the new week. Javeed appeared in the show along with Gulmeenay Sethi.
Last month, DawnNews also issued notices to two other presenters and the team members of their programs, informing them their contracts were being terminated.
The notices were served on anchor Baqir Sajjad Syed, co-host of the program 2 Raaye, and Jawad Ahmed Siddiqi, who hosts Dusra Rukh.
Nusrat Javeed had joined DawnNews from Aaj News in 2016. He has worked for top English dailies in a career he began in 1975. He entered the world of broadcast media with his program, 'Bolta Pakistan' on Aaj TV.
Later, he moved to Dunya where he used to host the program Dunya Meray Agay.
In January 2015 he joined BOL News as executive vice president and senior anchorperson. However, after the channel failed to hit the airwaves, he returned to Aaj. He stayed there for about seven months before jumping ship and arriving at DawnNews in March 2016.
The closure of the program Bol Bol Pakistan means that all staff associated with it would also have to leave.