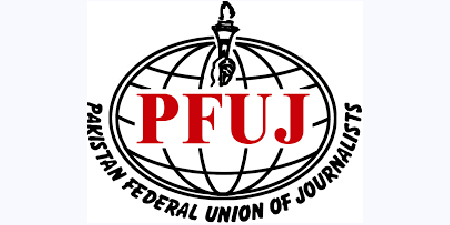 JournalismPakistan.com October 09, 2019


ISLAMABAD — The Pakistan Federal Union of Journalists (PFUJ) has not paid rent and electricity charges of its office at the Evacuee Trust Complex for almost five years that amounts to over Rs 0.2 billion.
A reminder sent to PFUJ president by the deputy administrator of the complex says the journalist union has "not deposited even a penny with this department."
"Resultantly arrears of rent/increase profit for occupied area by M/s PFUJ as well as electricity charges has been accumulated to Rs2,79,32,417/- till Sept 2019."
The reminder informs PFUJ to deposit the sum of Rs2,79,32,417 for the period 1-7-2014 to 30-9-2019 to avoid litigation.
PFUJ President Afzal Butt told JournalismPakistan.com that rent was paid through an Open Society grant of 35000 Euros to the previous body of PFUJ.
However, when they were unable to provide spending details of that money, the donors blacklisted PFUJ.
"After that we received no grants and hence had no money to pay the rent," he said.
Pervez Shaukat, president of PFUJ for two terms (2009-2013) said that rent was regularly paid during his tenures, thanks to the International Journalists Federation that made direct payments to Evacuee Trust through cheque.
Shaukat accused the body of Afzal Butt of forcefully capturing the PFUJ office and said they did not pay any rent after 2013.
He said he had written to the chairman Evacuee Trust that the PFUJ office had been taken over forcefully and that two months of rent paid in advance be returned.