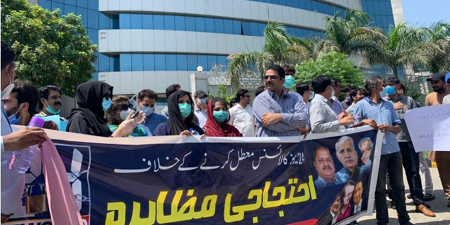 JournalismPakistan.com July 07, 2020


ISLAMABAD—Geo News presenter Hamid Mir has said that a journalist working for the suspended 24 News Television tried to commit suicide outside PEMRA offices on Monday.
A number of media persons gathered outside the electronic media regulator's building to protest the suspension of 24 News.
In a tweet, Mir said: "A reporter of @24NewsHD Sagheer Chaudhry tried to commit suicide in front of Pakistan Electronic Media Regulatory Authority Headquarter in Islamabad his colleagues saved him PEMRA banned this TV channel without any show cause notice police tried to disperse them by batton charge."
Also accompanied with the tweet is the video in which Sagheer Chaudhry opens a bottle and empties it on himself. However, his colleagues around him quickly move in, take the bottle from him. Later, Chaudhry with a face mask is seen safe.
Last week, PEMRA suspended 24 News license for not complying with its order to switch to its original programming of entertainment.
In a notification, the regulator stated that Value TV holding license for entertainment content was persistently, illegally, and unlawfully airing news and current affairs in violation of PEMRA laws.
PEMRA said, 24 News was provided ample opportunities to revert to its original content.
However, Twitterati commenting on the video rejected it as another drama, some terming it a bad attempt at overacting.
Muhammad Tahir Iqbal was not bemused. "He tried to commit suicide, but was cautious enough to wear mask for the fear to contract COVID-19. What a responsible citizen!