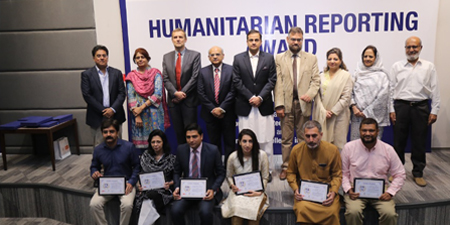 JournalismPakistan.com October 19, 2018


KARACHI – Officials conferred awards on six top journalists for their outstanding contributions in humanitarian reporting at the 2nd Humanitarian Reporting Awards 2018.
Centre for Excellence in Journalism at the Institute of Business Administration (CEJ-IBA), Karachi and the International Committee of the Red Cross jointly organized the event.
The awards had three categories - mainstream broadcast (Urdu), mainstream print and online (Urdu) and mainstream print and online (English) for news stories published between November 2017 and September 2018.
The winners and runners-up in the three categories:
Mainstream Broadcast (Urdu)
Winner: Muhammad Husnain – Hum News
Runner-up: Raja Kamran – Neo TV
Mainstream Print & Online (Urdu)
Winner: Umer Draz Nangiana – BBC Urdu
Runner-up: Islam Gul Afridi – Peshawar Today
Mainstream Print & Online (English)
Winner: Sabrina Toppa – Freelance journalist
Runner-up: Rizwana Naqvi – Dawn
Speaking at the event, Kamal Siddiqi, Director CEJ, shared details of how the institution joined hands with the ICRC to launch Humanitarian Reporting Workshops and Awards. "We see this collaboration going a long way since we aim to continue inspiring our media to report on humanitarian issues in a way that is objective and keeps the interests of the affected at heart," he said.
Siddiqi further informed that CEJ's partnership with ICRC had helped both institutions identify weaknesses in the current humanitarian reporting practices and explore innovative ways to fill the gaps.
Reto Stocker, Head of Delegation at ICRC Pakistan, lauded the work CEJ-IBA was doing to promote effective journalism in Pakistan in general, and the institution's central role in the humanitarian reporting workshops in particular.
"We are pleased to have partnered with CEJ for the second consecutive year for the Humanitarian Reporting Workshop and Awards. Reporting on humanitarian issues is a very sensitive matter as it has interests of the affected at stake. Through these workshops and awards, we have aimed for learning from and teaching the local media the best practices when it comes to highlighting humanitarian issues," he said.
This year, the organizers received 200 submissions for the Humanitarian Reporting Awards from across Pakistan. A panel of veteran journalists - Shahzad Sharjeel, columnist for Dawn, Ghazala Fasih, in-charge Women's Edition and writer at Nawa-i-Waqt Group, Iftikhar Firdous, Editor Investigations for Samaa TV and Digital, announced the winners.
The winners thanked the CEJ-IBA and the ICRC for recognizing their work and lauded the institutions' efforts to promote effective and professional journalism using such workshops and training. - A CEJ-IBA media release