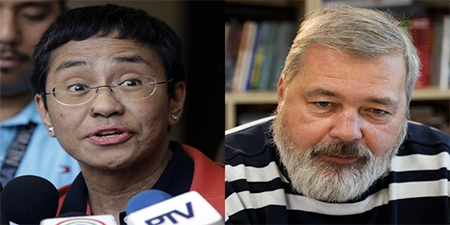 JournalismPakistan.com October 10, 2021


OSLO—International journalist community has welcomed the awarding of this year's Nobel Peace Prize to two reporters who have made significant contributions to the peace movement at a time when media around the world face several kinds of threats.
According to the New York Times, journalists, Maria Ressa of the Philippines and Dmitri A. Muratov of Russia were recognized for "their courageous fight for freedom of expression, which is a precondition for democracy and lasting peace."
"Ressa, a longtime CNN reporter and a 2018 recipient of the ICFJ Knight International Journalism Award, co-founded the independent news site Rappler - one of the few news outlets in the Philippines taking on the government of President Rodrigo Duterte over its human rights abuses. Today, after being convicted on a trumped-up charge in 2020, she faces a slew of other state-linked legal cases aimed at silencing her and her colleagues," the International Center for Journalists (ICFJ) noted.
"Muratov is the co-founder and longtime editor-in-chief of Novaya Gazeta, an independent newspaper in Russia that works with the Organized Crime and Corruption Reporting Project (OCCRP), an ICFJ partner. Novaya Gazeta journalists have taken part in ICFJ programs over the years, and investigative reporter Roman Anin worked there when he received the ICFJ Knight Award in 2013. Six Novaya Gazeta journalists have been killed since Muratov co-founded the news outlet in 1993, including Anna Politkovskaya, once a leading voice reporting on the Chechnya war," the ICFJ further stated.
"Dmitry Muratov and Maria Ressa personify the values of press freedom and the reason it matters. These are journalists under personal threat who continuously defy censorship and repression to report the news and have led the way for others to do the same. This Nobel Peace Prize is a powerful recognition of their tireless work, and that of journalists all around the world. Their struggle is our struggle," Joel Simon, executive director of the Committee to Protect Journalists, commented.
Christophe Deloire, on behalf of the Reporters Without Borders (RSF) also welcomed the announcement, saying that: "This is an extraordinary tribute to journalism, an excellent tribute to all journalists who take risks everywhere around the world to defend the right to information. It will be a decisive decade for journalism. Journalism is in danger, journalism is weakened, journalism is threatened. Democracies are weakened by disinformation, by rumors, by hate speech. This prize is a great signal and a very powerful message to defend journalism everywhere."
"Maria has been an inspiration to the world as she fought for the truth and for her rights and in fact the rights of free people everywhere as the leader of Rappler. We know she has a smile on her face this morning because she is almost always smiling. We do too. The Nobel Committee could not have picked a better person to represent journalists. She reminds us of all that is best in our profession. Her drive for truth and her passion and determination are impressive to witness. Her voice reminds us of our role in democracy, and of our place in the world. This award could not come at a better time as a free press is being attacked across the planet," Lisa Nicole Matthews, President of the National Press Club, and Angela Greiling Keane, President of the National Press Club Journalism Institute, stated.
Photo: AP