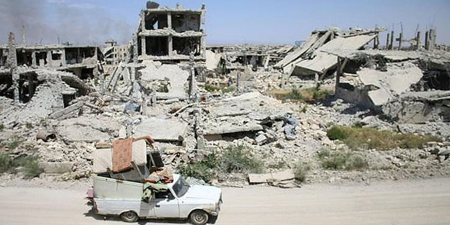 JournalismPakistan.com March 15, 2018


BEIRUT - Bashar al-Attar, a photographer for the pro-opposition Arbin Unified Media Office, died from injuries sustained in a March 12 airstrike in the rebel-held eastern Ghouta area of Syria, outside of Damascus, according to his employer and the Syrian Journalists Association.
Al-Attar was hit by shrapnel while he was helping civilians wounded in an earlier airstrike that he had been covering in the city of Arbin, according to Abu Abdo, a member of the Arbin Unified Media Office's board of directors.
The photographer sustained several serious injuries and was transferred to a hospital, where he died, Abdo told the Committee to Protect Journalists. He added that the airstrike was carried out by the pro-government Russian-led coalition.
"The Syrian government and its allies are showing complete disregard for human life in eastern Ghouta, meaning no journalists there are safe," said CPJ Middle East and North Africa Coordinator Sherif Mansour in Washington, D.C. "We call on the Syrian government to cease hostilities in eastern Ghouta and guarantee the safety of all civilians, including journalists."
Abdo told CPJ that Al-Attar had worked as a photographer for the Arbin Unified Media Office for a year. The independent media organization, which supports the internationally recognized Syrian opposition, is documenting the impact of the pro-Bashar Al-Assad airstrikes in Arbin.
Eastern Ghouta has been under constant shelling, airstrikes, and rocket fire from Assad's forces and their allies since February 18. At least 1,197 civilians have been killed and 4,640 wounded in the offensive, according to the London-based human rights group Syrian Observatory for Human Rights.
In a statement released on February 22, the Syrian Journalists' Association said that at least 75 journalists and media professionals were under threat in eastern Ghouta due to the escalating military campaign.
Syria is one of the deadliest countries in the world for journalists. At least 115 journalists have been killed there in relation to their work since the conflict began in 2011, according to CPJ research. - A CPJ News Alert