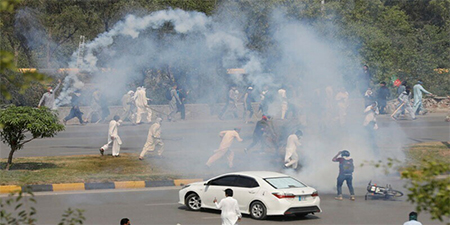 JournalismPakistan.com May 27, 2022


ISLAMABAD—Aaj News Television has highlighted various incidents related to torture and harassment of journalists during PTI's long march this week.
"In my nine years of journalistic career, I have never seen the kind of fervor that the PTI supporters showed," said Aaj News reporter Usman Muzaffar from Islamabad. "Usually, only religious parties have this kind of support. People of Islamabad never come out for political parties, but yesterday families stood at the motorway toll plaza just to catch a glimpse of Imran Khan."
"I have also not seen the kind of shelling that happened at D-Chowk yesterday. Some shells landed on our DSNG," he said.
Protesters also attacked an Aaj News DSNG in Islamabad and hit it with sticks. The reporting team from Hum News also came under attack from protesters, and their DSNG's windscreen was smashed.
"TV personalities who take strong political stances do not bear the brunt of their statements," Muzaffar added. "It is usually the reporter or the team in the field that has to pay the price."
A Neo News team from Peshawar was attacked in Islamabad, with their DSNG hit with sticks, Aaj News reporter from Peshawar, Azm Rehman said. The team was not allowed to cover the long march either, and there were threats of violence to the driver and reporter.
In Karachi, Samaa News crew was physically attacked, and their camera was broken. The now unusable camera contained footage of protestors setting a police van on fire. Samaa's reporters Zam Zam Saeed, Yasir Hussain and cameraman Imran Khan were attacked. Their DSNG was spared, Samaa reporter Zeeshan Mughal told Aaj News.
At Lahore's Liberty Chowk, Aaj News DSNG was attacked, and its windows were broken.
Photojournalist Amjad Hussain was attacked during the protests.
AFP photojournalist Asif Hassan was caught in the clashes between police and protestors. A stone meant for the police hit him in the head. The resulting gash required five stitches.
According to sources, at least 11,000 tear gas shells were fired in the morning and 13,000 at night at Islamabad's D-Chowk, but Aaj News could not independently verify the figure.
Photo courtesy: Aaj News