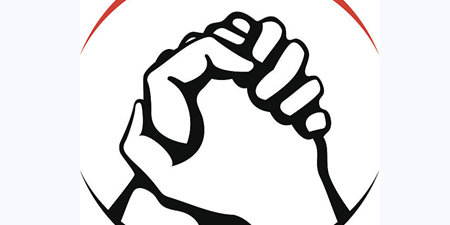 JournalismPakistan.com May 16, 2017


ISLAMABAD - Trade Unions of Rawalpindi and Islamabad have joined hands to launch a united struggle for achieving the rights of the workers including those in the media, and to fight for the labor cause under one banner.
Representatives of over three dozen unions gathered at the National Press Club Monday where they formed the All Pakistan Mazdoor Ittehad Action Committee to jointly struggle for the rights of the laborers and workers of public and private sector, including the media industry.
The meeting, attended by all the known trade union leaders of the twin cities, including the Pakistan Federal Union of Journalists (PFUJ), was the third in the series of consultations for a joint struggle.
The meeting decided to form an Action Committee.
The three-point agenda agreed by the leaders to be pursued as common objective includes increase in the minimum wages of laborers from Rs16000 to Rs20000, end contract system and outsourcing of labor in public sector organizations and an end to privatization in the public sector.
It was decided that a joint rally would be organized on May 23 before the budget to press for the acceptance of these demands. A protest camp would also be set up outside the parliament after the rally.
The meeting formed three sub-committees. The Coordination Committee, comprising a representative each from the allied trade unions, has been assigned to meet politicians from all shades of opinion to muster support for their demands.
The other two committees will be working for making arrangements for the May 23 rally and the camp.
The Action Committee will be widened in future and efforts would be made to provide a single platform for the trade unions across the country.