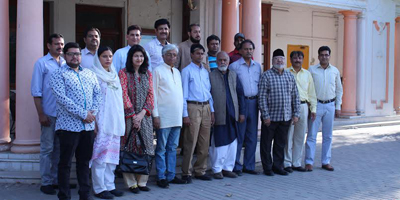 JournalismPakistan.com April 17, 2016


LAHORE: The South Asian Columnist Council (SAAC), headquartered in Lahore, has announced its central body for 2016 after thorough deliberations and consultations with its members present in different countries of the world. The said announcement was made at a special meeting held at Cosmopolitan Club, Bagh-e-Jinnah.

According to SAAC website (www.southasiancc.org), its members include columnists who write regularly in the mainstream media with the aim to promote healthy and constructive dialogue in the society, bring people of the world closer to each other, defeat the forces of evil, share knowledge with readers, suggest solutions to national and international problems and promote the agenda of tolerance and peaceful co-existence.

The names and positions of the elected central body members are: Haroon Adeem (President), Zawar Comrade (Senior Vice President), Shahbaz Anwar Khan (Vice President)، Roshan Lal (Vice President), Zameer Afaqi (Secretary General), Mazhar Chaudhry (Joint Secretary), Nadeem Anthony (Finance Secretary), Ghulam Raza (Information Secretary) and Saeed Azhar (Life Patron).

Athar Khurram was elected chairman of the executive council that comprises Ashraf Suhail, Fazal Hussain Awan, Professor Munawar Sabir, Arifa Subah Khan, Saba Mumtaz, Dr Syeda Dilawar Shah, Shahzada Irfan Ahmed, Mohsin Ali, Javed Farooqi, Rasheed Bhatti, Ali Asghar Abbas, Mirza Shehryar, Faisal Durrani, Nadeem Khan, Shoaib Mirza, Ashraf Sharif, Sher Ali Khalti and Zafar Iqbal.

SAAC was established in 2009 and currently has 150 members. It has 24 chapters outside Pakistan where seasoned journalists are performing their duties as respected members of the council.

Talking to JournalismPakistan.com, Zameer Afaqi, Secretary General, SAAC said there were certain objectives behind setting up of this august forum around seven years ago. For example, he said, the founders thought there was a need to bring committed and forward-looking journalists on a single platform so that they could show the right way to the masses and infuse hope in them. The point was that nothing less than a collective effort and a well-devised work plan, involving media personnel whose words mattered, could bring a positive change in the society, he added. The ruling elite and the powers that mattered were also the prospective audience of these influential writers.

Since its launch, Zameer says, SAAC members are guiding people through their columns and trying to end despair, anarchy and strife in the society, Their writings, he says, also focus on how to root out social and religious prejudices, promote universal brotherhood and tolerance, help out all the masses regardless of their class, color, creed and religion and support the idea of universal brotherhood among the people.

SAAC members also put their weight behind different campaigns launched in public interest. One such example is about the recent campaign launched by the civil society regarding provision of free and compulsory education to children of school-going age under Article 25A of the Constitution of Pakistan. A large number of SAAC members wrote on this topic repeatedly and built a pressure on the state authorities, who had to ultimately take this matter seriously, says Zameer.


Zameer said that it was an honor for them that SAAC delegation was the only delegation of journalists invited by the Iranian Consul General in Lahore, prior to the visit of Iranian president last month.