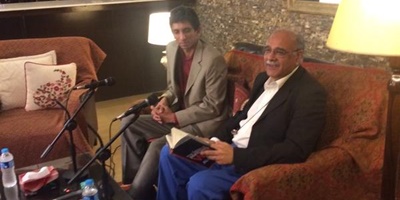 JournalismPakistan.com June 14, 2015
LAHORE: The late terror kingpin and Al-Qaeda chief Osama Bin Laden had been in Pakistan since 2002 and some key elements in the establishment knew about his presence.

Investigative journalist Azaz Syed (pictured, left) revealed this on occasion of his book launching ceremony that was moderated by renowned anchorperson and analyst Najam Sethi (pictured, right). The book, "The Secrets of Pakistan's War on Al-Qaeda," hit bookstores across the country on fourth death anniversary of Bin Laden and was formally launched Saturday on premises of Books n Beans, Lahore.

Spouse of Sethi and renowned journalist Jugnu Mohsin was also present among the well-versed audience and they asked numerous pertinent questions from the author about his book.

"Bin Laden entered in Pakistan in 2002 and traveled different places across the country before finally getting settled in Abbottabad and I've got documentary evidence to prove it," Syed said in response to a question from the audience.

Talking about judicial commission that the then government constituted to know about killing of Bin Laden in a raid by US Navy Seals on May 2, the author questioned as to why the government has yet not made the commission's report public.

Syed said that Col (retired) Iqbal Saeeduddin, who was also running a private security company (Comprehensive Security Company) at that time had informed the Central Intelligence Agency about whereabouts of Bin Laden at USA's Embassy in the United Arab Emirates in contrast with American senior journalist Seymour Hirsch's claim that the information was passed on to Americans at the US Embassy in Islamabad by a retired officer of Pak army.

"People want to know as to why the commission didn't summon Saeeduddin to record his statement as he is believed to be a key informant of the CIA and instrumental in Abbottabad operation," he said.

During the two-hour long interactive session, Syed also revealed that Khalid Sheikh Mohammad, mastermind of September 11 terror attacks, also met Bin Laden before travelling to Rawalpindi in an official vehicle from where he was arrested.

Sethi lauded the journalist for authoring an in-depth book on the issue and revealing some new facts about presence of Bin Laden in Pakistan besides Pak-US relations in the war on terror.

Recalling his association with the author, Sethi said that he was editor of an English daily when his reporter, Azaz Syed, broke a news story about the then Tehreek-e-Taliban Pakistan chief Baitullah Mehsud's plans to kill Pakistan Peoples Party chairperson Benazir Bhutto on her arrival in Pakistan.

In reference to Mehsud's plans, the author also mentions in his book that a chit is found from compound of Bin Laden that apparently confirms that Mehsud's men did their job as Benazir was killed on December 27, 2007 in Rawalpindi, days after the story was published.

Syed is currently working with Geo News as a senior correspondent. Earlier, he remained associated with DawnNews, Waqt TV, Daily Times and Associated Press of Pakistan.

He has worked as a stringer for The New York Times and the London Evening Standard. He has also done extensive reporting on counter-terrorism and security issues.