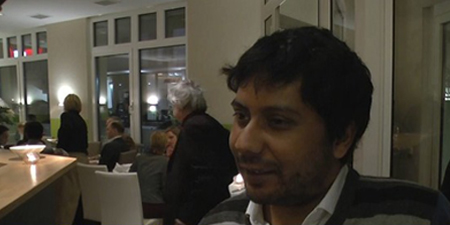 JournalismPakistan.com October 11, 2016


ISLAMABAD – Senior journalists took to Twitter to lend support to Dawn journalist Cyril Almeida whose name was placed on the Exit Control List Monday for doing a story on civil-military relations last week.
Analyst and Dawn columnist Zahid Hussain tweeted the "Travel ban on Cyril @cyalm for doing his job is shameful."
Almeida's front page story headlined Act against militants or face international isolation, civilians tell military was published on October 6. It angered both the government and the army promoting Prime Minister Nawaz Sharif to take "serious notice" Monday and directing that those responsible be identified for stern action.
Hamid Mir, host of program Capital Talk on Geo TV asked: "Will Interior Minister Ch Nisar Ali Khan explain why journalist @cyalm has been put on ECL? Is it democracy? waiting for a response."
Owais Tohid, currently associated with Capital TV tweeted: "Strange govt can let Musharraf, who faces treason charges, leave the country but puts Journo Cyril @cyalm on ECL. One can only laugh..." In another tweet he said: "Placing of @cyalm Cyril on ECL is govt's ridiculous step. All the support for him He is credible journalist ¬ a wanted criminal."
On the other hand Geo Television analyst Najam Sethi said: "Civ-Mil Estab has given the international media a bigger story by stupidly targeting Cyril/Dawn. Media must stand by @cyalm and @dawn_com."
Murtaza Solangi, a former Director General at Pakistan Broadcasting Corporation (PBC) tweeted: "We don't like mirrors that show what we actually are so we will smash them. #DAWN #Cyril."
Tariq Butt, senior journalist with The News said that "Placing Cyril Almeida's name on ECL condemable All govt clarifications/contradictions duly carried by Dawn, whch shld hve been end of story."
Omar R Quraishi, Editor Digital Properties at Samaa, said: "Effects of placing Cyril Almeida on ECL 1. Pakistan getting international headlines for wrong reasons 2. Makes Mr Almeida a martyr."
'Cyril' was a trending on Twitter with 15.9K tweets published by Tuesday afternoon. Another hashtag going was #WhoFedCyril with largely anti-Dawn tweets.
Image: Cyril Almeida/Körber-Stiftung