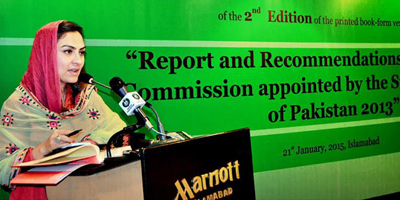 JournalismPakistan.com January 21, 2015
ISLAMABAD: The government has endorsed 90 to 95 percent recommendations of the Media Commission's report that calls for radical reforms in the media industry, Chairperson National Assembly Standing Committee on Information, Broadcasting and National Heritage, Marvi Memon said on Wednesday.
She was speaking at the launch of the second edition of, "Report and Recommendations of the Media Commission". The commission was constituted by the Supreme Court of Pakistan in 2013.
Wednesday's event was organized by German foundation Friedrich Ebert Stiftung. "Ministry of Information has also worked on the report but implementation would require effort of all the stakeholders," Marvi added.
Considering the importance of building common narrative on extremism and terrorism in the society, she stressed the need to immediatly form a consultative body which includes all stakeholders from media, government and civil society. She recommended that the commission suggest ways and means of keeping social media in check.
Marvi said that security of journalists must concern all stakeholders. She said that it is the collective responsibility of media organizations and the government to provide security to journalists who risk their lives while breaking news.
She said that the country is passing through a critical phase and the role of media has become very important at this juncture. "Pakistani media is entering into a new era and it should know all the prerequisites of this time to effectively cope with the challenges," she added.
Member Media Commission Senator Javed Jabbar, Executive Director Society for Alternative Media and Research Mazhar Arif, Resident Director FES Pakistan Philipp Kauppert and others also spoke on the occasion.
The speakers called for improved self-censorship, feedback, ethics and language which is getting weaker while corporate interests are getting importance in some media houses.
Editors, reporters, anchors and members of civil society criticised certain policies regarding media and demanded that PEMRA should be an independent institution.