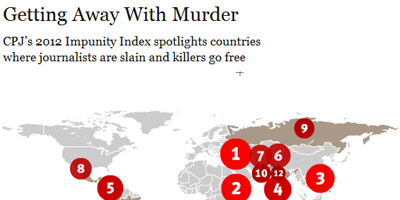 JournalismPakistan.com November 26, 2012
Taking stock of the distressing reality of impunity in the region, the South Asia Media Solidarity Network (SAMSN) says Pakistan's impunity rating has increased rapidly and without break for the last four years.
Journalists in South Asia consistently face threats, intimidation and violence, and in extreme (though disturbingly common) cases, murder.
Five of the eight South Asian countries feature among the 12 with the worst record in failing to bring to justice the killers of journalists, according to the Impunity Index compiled by the Committee to Protect Journalists.
The same compilation of data the previous year had an even more dismal story to tell: seven of the eight countries of South Asia featured in this list then.
In many ways, Pakistan's status as one of the central staging posts of a global war has contributed to this rapid deterioration. Among the most traumatic events in recent times was the abduction and murder of the investigative journalist Saleem Shahzad in May 2011.
This was also in many ways a key turning point for the struggle against impunity since Pakistan Federal Union of Journalists (PFUJ) and other professional groups mounted an agitation in its immediate aftermath to secure the appointment of a judicial commission of inquiry.
SAMSN said the inquiry report, submitted in January 2012, observes how deeply traumatic the incident was. It was not just Shahzad's family and the community of journalists that was left "in a state of shock", but also "the public at large", since the "net of suspicion was cast, amongst others, on institutions of the state itself".
On the basis of its extensive interviews and investigations, the Justice Mian Saqib Nisar Commission concluded that "in all probability, the background of this incident is provided by the War on Terror". This conclusion is warranted by the fact that as an "investigative reporter, Saleem's writings probably did, and certainly could have, drawn the ire of all the various belligerents in the War on Terror – the Pakistani state, the non-state actors such as the Taliban and al-Qaida, and foreign actors".
Though the Nisar Commission failed to identify the agency responsible for Shahzad's killing, its inquiries were valuable in highlighting how complex the struggle against impunity is likely to be.
The widespread sense of shock that followed Shahzad's killing has not however, led to any material improvement in conditions for journalists. The International Federation of Journalists (IFJ) record shows that in the 18 months that have followed, no fewer than nine journalists have died in violent circumstances, mostly victims of targeted killings.
The province of Balochistan, in the grip of an insurgency by elements seeking independence from the Pakistan federal government, has been an especially hazardous terrain, SAMSN said.