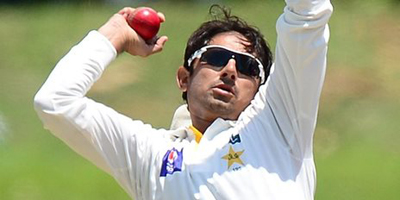 JournalismPakistan.com November 12, 2015


KARACHI: Pakistan Cricket Board suspended former spinner Saeed Ajmal's contract over television comments he made about the way bowlers with illegal action are dealt with.

The 38-year-old had been Pakistan's match-winner in the last five years until he was sidelined over his bowling action before being cleared in February. Ajmal, who returned to international cricket in April after remodelling his action, claimed that Harbhajan Singh and Ravichandran Ashwin were chuckers, but never punished because "they belong to India."

Ajmal had also blasted the International Cricket Council's (ICC) process on the illegal action issue, claiming it singled out spinners like him.

"Why just target the off-spinners?" Ajmal questioned on two channels last week. "Why not the left-arm spinners, leg-spinners or fast bowlers?

"I can tell you that I have been through this bowling assessment process so many times and have watched and studied this issue so closely that I can vouch that if tests were carried out, there would be many other bowlers whose bowling actions would exceed the 15 degrees extension limit," said Ajmal, singling out Indian spinner Harbhajan Singh as a suspect.

Pakistan Cricket Board chairman Shaharyar Khan told reporters Ajmal's contract had been suspended.
"We feel sorry over his comments," Khan said. "We have taken the minimum action on the violation of discipline and have suspended his contract, stopped releasing his salary and have asked him to explain his comments."

Despite not being selected since April this year, Ajmal was retained in the "B" category in PCB central contracts.
Khan said Ajmal had been supported in his efforts to alter his bowling action.

"We supported him a lot, invited Saqlain (Mushtaq) to correct his action so his comments were sad that we did not support him," said Khan.

Ajmal had a formidable record of picking up 178 wickets from 35 Tests and 184 wickets from 113 ODI games, before his action was reported in August last year as suspect.

He was subsequently suspended a month later as his elbow was extending more than the 15 degrees tolerance limit allowed under the ICC rules.

Ajmal remodelled his action under former Pakistan spinner Saqlain Mushtaq but managed just one wicket in the two one-day internationals and was wicketless in a - both against Bangladesh in April. - AFP