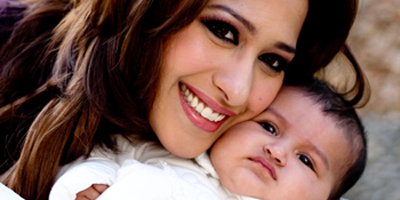 JournalismPakistan.com March 12, 2013
ISLAMABAD: Popular television talk show host Meher Bokhari talks about her student days with great zest, in an exclusive interview with Motherhood, Pakistan's first parenting magazine.
"Ah! Beautiful and carefree, full of mischief and naughtiness! I was always an A grade student but don't remember ever being in the classroom. The chowkidaar Ahmad Khan, was given special instructions by my principal to keep a look out for me, owing to my love for loitering out and about! I was always getting into trouble for one thing or another in school and for always having to photocopy notes before exams at home! I was part of debates, dramatics and all sports activities throughout my student days and eventually went on to become the Sports Captain of LGS."
Meher was a naughty child at home as well. "My older sister was the responsible, cultured one and I, well let's just say, there might have been solid grounds for my mamoo calling me jungli chooza! I was wild, blithe and very happy go lucky. Our parents took us swimming every day at Gymkhana, where we played tennis as well. My sister and I both went everywhere together, from classical dance lessons to birthday parties!
"We were made to travel from a very young age. We had huge joint-birthday parties, the biggest ones in town. Our annual Halloween party was a tradition everyone looked forward to at school! Every summer was either discovering the northern areas of Pakistan or sauntering through the world that lay beyond! My mother was the disciplinarian and my father, the one who'd melt for his daughters! I had a wholesome and beautiful childhood. I look back in awe realizing it's time for me to make that magic for my little princess now."
Meher has a sister and a brother. "I'm the youngest one. My father's twin brother (identical!) moved to Pakistan when I was born and since then he's been my Godfather, who has literally raised me. My brother is 10 years older to me, and my sister and I are two years apart. We are a very close family. There are no secrets at home. Everyone is expressive, sharing and supportive. I think a close-knit family lays the foundation for confident, strong and generous individuals."

Meher and her mother share a special bond. When asked about her relationship with her mother, Meher replied, "I always fall speechless here. My mother has and still remains to be my role model. I don't say this as a cliché but owing to the fact that she has been a best friend, guide, mentor, nurturer, motivator and my biggest critic to date! She taught us deen, made us memorize the Quran, and taught us all the ways of life. She being an educationist, we were introduced to the wonder of books and literature. Her untiring efforts, whether it be waking up at 5am to take me for my swimming drills (I was captain of the Punjab swimming team and part of the national women's swim team of Pakistan), making me coffee for last minute exam preps, spanking me with makhi-mar for something I shouldn't have done, or wiping away my tears – she has been larger than life.
"She taught us at a very young age what being a woman means, how one must protect themselves, how religion should always be the guiding light and the essence of balance in one's life. She taught me there is nothing known as depression. There is nothing known as giving up. She taught me that I must, come what may, dance through life. She has indeed made the new task before me very daunting. If I can be even half the woman, half the mother she is, Khadija will be a very lucky girl.
Meher is overjoyed with her newly embraced motherhood. "It is exciting and nerve-wracking at the same time. The wonder of it blows you away and the responsibility that comes with it grounds you like nothing else. I want to be everything to Khadija that my mother was to me. I hope I can raise her to be a compassionate, grounded, responsible yet passionate individual. I pray that I'll be able to give her the gift of the Quran and let her believe that the world is hers for the taking, InshaAllah. One thing is for sure, once you're a mother, your entire perspective on life changes, nothing is as it was before." When asked about the significance of the name 'Khadija' Meher said that Khadija's father named her that. "He wanted to name her after a woman who changed the world, a woman of integrity and honor."
Meher also talked about a typical day with her family. "We lounge around, make dinner at home, watch movies together, cuddle in and watch Khadija do her magic! We love hanging out at coffee shops and spending time at the gym- weather-permitting, Khadija accompanies us as much as she can. Kashif and I both love traveling, we're anxiously waiting for a little green passport for our tiny globe trotter to begin her travels!" Meher and Kashif both work from Monday to Thursday. "I work from home till late in the evenings and then go in to do my show. We both head back right after that. Luckily the time I'm out, she's soundly napping! So it all works out well Alhamdulillah."