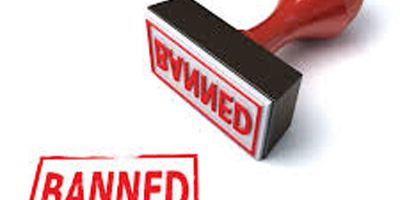 JournalismPakistan.com November 20, 2015


ISLAMABAD: The national media have been directed not to publish or air news about 37 banned outfits.The News reported Friday that the Ministry of Interior through PEMRA, has asked the media houses to black out their coverage.
The paper said the ministry has dispatched a list to the print and electronic media of these banned organizations/groups.
The list is: Lashkar-e-Jhangvi, Sipah-e-Muhammad, Jaish-e-Muhammad, Lashkar-e-Taiba, Sipah-e-Sahaba Pakistan (SSP), Tehreek-e-Jafria Pakistan, Tehreek-e-Nifaz-e-Muhammadi, Tehreek-e-Islami, Al-Qaida, Millat-e-Islamia Pakistan, Khadim-ul-Islam, Islami Tehreek Pakistan, Jamiat-ul-Ansar, Jamiat-ul-Furqan, Khair-u-Nisa International Trust, Blaochistan Liberation Army, Islamic Students Movement of Pakistan, Lashkar-e-Islam, Ansar-ul-Islam, Haji Namdir Group, Tehreek Taliban Pakistan, Balochistan Republican Army, Balochistan Liberation Front, Balochistan Liberation United Front, Balochistan Armed Defense Organization, Shia Talaba Action Committee Gilgit, Tanzeem Naujawan-e-Ahle-Sunnat, People Aman Committee Lyari, Ahle-Sunnat Wal Jamaat, Amin Foundation, Rabita Trust, Anjuman Imamia Gilgit Baltistan, Muslim Students Organization Gilgit Baltistan, Tanzeem Ahle-Sunnat Wal Jamaat, Gilgit.