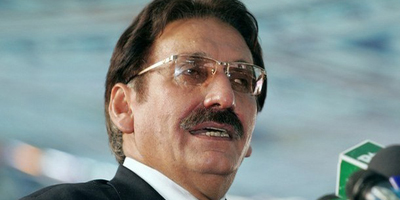 JournalismPakistan.com December 11, 2013 Daud Malik

ISLAMABAD: A full court reference in honor of the outgoing Supreme Court Chief Justice Iftikhar Mohammad Chaudhry was marred somewhat by a media controversy Wednesday.
The controversy arose after only Geo TV was allowed direct access to Court Room No. 1 where the full court reference was held. The channel screened the outgoing CJ's address live. Even the state-run PTV televised the address 'courtesy Geo'.
According to Dunya TV, the Supreme Court Reporters Association has convened an emergency session over the matter.
The channels left out were incensed, more so ARY. They termed this exclusive coverage to Geo TV a violation of Article 25 of the constitution which guarantees equality of citizens before the law.
A Supreme Court official who tried to talk to the media persons afterwards could not speak much as the journalists raised slogans of 'shame, shame', forcing him to leave.
According to Samaa TV's website, "Abdul Hameed, Staff Officer of the Chief Justice, failed to satisfy journalists during his brief media talk after the full-court reference. He, strangely, maintained that one cameraman ran away with the footage of the event."
Instead of discussing the legacy of the outgoing chief justice, news channels went live to 'condemn the discrimination'. ARY TV anchors, harshly criticizing the outgoing chief justice, became even harsher when it was made clear that only Geo was allowed access to Court Room No. 1.
Known lawyer Aitzaz Ahsan termed it a 'no-ball' from the Supreme Court allowing other TV channels a 'free hit' to vent their anger. Columnist Nazir Naji saw the whole episode in the background of the Supreme Court Bar Association divided over giving farewell to the outgoing CJ.
Samaa TV also quoted Justice (Retd) Saeeduz Zaman Siddiqui as saying that that Supreme Court staff did not have prerogative to provide footage to only one channel.
Ironically, a number of anchors criticized the outgoing chief justice for taking hundreds of suo motu notices during his tenure. At the same time they demanded from the incoming CJ to take 'notice' of why only one private TV channel was allowed access to Court Room No. 1.