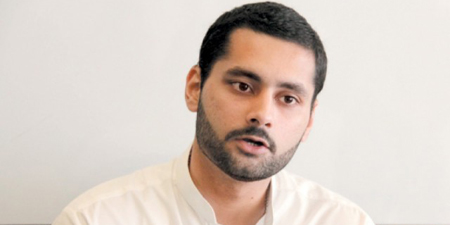 JournalismPakistan.com May 08, 2017


ISLAMABAD - Social activist Jibran Nasir (pictured) has claimed that a woman died when spectator stands set up for ARY show Eidi Sub Kay Liye collapsed last month in Bahria Enclave.
Some newspapers reported that more than 100 people were injured when the stands came down on April 28.
According to Dawn, "Some of the injured were stuck under the wreckage of the stage, the sources said, adding that all the wounded were shifted to hospital."
In a tweet Nasir said: "Just spoke to 2 affectees. One's wife died & other's mother suffered spinal injuries in 28 April #AryZindagi event. Silence from Media/Govt."
He has also uploaded a short video of the incident and asked if ARY anchors Waseem Badami and Maria Memon "will cover issue of 28 April incident regardless of channel affiliation. Innocent lives were lost."
Nasir, who introduces himself as azad lawyer and co-founder of Elaj Trust, successfully ran a campaign against BOL TV for running a hate campaign, leading to a temporary ban on the program Aisay Nahin Chaly Ga.
He regretted that the organizers of the show did not apologize despite having contacts of the participants. "Keeping aside criminality/compensation for injured of 28 April incident, Organizers didnt even apologize despite having contact info of all."
Nasir and journalist Omar R Quraishi uploaded a letter of Bahria Town that asks ARY if it has conducted a probe into "bleacher collapse during recording of 'Eidi Sub Kay Liye' show."
Nasir asked: "Now #BahriaTown writes to @ARYNEWSOFFICIAL asking for inquiry into 28 April incident. Why is the Police not investigating both Bahria & Ary?"
In yet another tweet, he offered contacts for legal help for the people injured. "If you were injured in 28 April incident Tv show recording at Bahria Enclave & want to take legal action plz contact aapkayhaqooq@gmail.com."
Image courtesy: lubpak.com