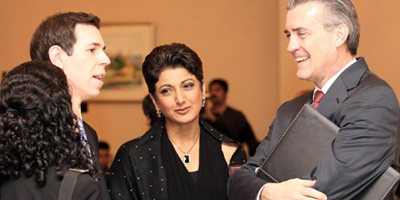 JournalismPakistan.com February 02, 2013
ISLAMABAD: US Ambassador Richard Olson and state Information Minister Syed Sumsam Ali Shah Bukhari Friday congratulated Pakistani journalists on the important work they do to advance Pakistan's democracy.
More than 70 journalists from various TV, radio, and print outlets across Pakistan gathered in Islamabad for a three-day media summit. The journalists are alumni of a US-funded exchange program - US-Pakistan Professional Partnership in Journalism.

"The US government strongly supports a vibrant and independent media in Pakistan," said Ambassador Olson, in his remarks at the opening ceremony. "A free press is the cornerstone of any democracy. It provides the information and facts needed by the people to hold their government accountable."

Launched in 2011, the US-Pakistan Professional Partnership in Journalism is administered by the International Center for Journalists (ICFJ). After two weeks of orientation in Washington, Pakistani journalists spend three to four weeks working as reporters at news outlets across the United States.

The program also brings US journalists to Pakistan for a two-week orientation on Pakistani politics, society, and the economy through site visits, interviews, and interactions with journalists, officials, and others. Currently, a group of seven US journalists from print, television, radio, and online media is in Pakistan.

The three-day alumni media summit includes panel discussions with media professionals, breakout sessions on topics such as conflict-sensitive reporting and social media, and a "train-the-trainer" workshop for motivated alumni who will share what they learn with other journalists in their communities.

The US government invests nearly $30 million annually in exchange programs with Pakistanis. More than 1,000 Pakistanis participate in various high school, undergraduate, graduate, and professional US-sponsored exchange programs each year. - Online