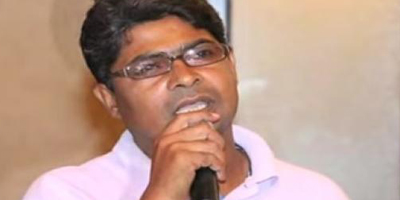 JournalismPakistan.com July 01, 2016


KARACHI - A Hindu reporter at the Associated Press of Pakistan (APP) on Friday claimed he was being pressured to retract his allegations that he was barred from drinking water in the same glass and sharing utensils with other Muslim staff at the office after his colleagues found out his religion.
Sahib Khan (pictured), a senior reporter with APP in Karachi, had alleged his bureau chief had asked him to "use separate utensils to eat and drink in the office because some colleagues had reservations."
But after the issue was brought to limelight through media reports and led to backlash and demands that action should be taken against those involved in discrimination against him, his boss started pressuring him into falsifying such reports, Sahib Khan claimed.
"On Wednesday, he [the bureau chief] made me sit in his office for over four hours, pressuring me into falsifying media reports on the incident," he was quoted as saying by Dawn.
"He wants me to say that all such reports circulating in the media are lies. He even said 'if you can take extreme measures, so can we'," Khan alleged.
Khan, who hails from Dadu district, was initially appointed as a reporter in APP Islamabad and was transferred to Hyderabad and then Karachi in April this year.
He had alleged that the discriminatory attitude started soon after his younger son Raj Kumar visited his office and everyone found out that he was Hindu.
"Actually my name contains the word 'Khan' so everyone in the office initially thought I was Muslim. When I introduced my son as Raj Kumar, they asked me in amazement if I was Hindu. The very next day, our bureau chief called me up for a meeting and asked me to use separate utensils for eating and drinking at work because others had problems," he said.
APP Karachi Bureau Chief Parvez Aslam, however, in a statement to the daily, has termed the allegations ""misleading" and "baseless."
Aslam said there was "no discrimination against any minority member working at the APP on any basis, let alone religion." He also denied reports that Khan was being "mistaken" for a Muslim earlier due to his surname "Khan."
"As a matter of fact, all his [Sahib's] colleagues were well aware that he was a Hindu by religion but there was no discrimination against him at any stage," he said.
Aslam said the APP management investigated the reported incident following a "malicious" letter from the Pakistan Institute of Labor Education and Research and found that all charges were "frivolous."
Journalist unions have condemned the alleged discrimination against Khan.
Secretary of the Karachi Union of Journalists (Dastoor Group) Shoaib Khan condemned the incident and demanded a thorough probe. - PTI