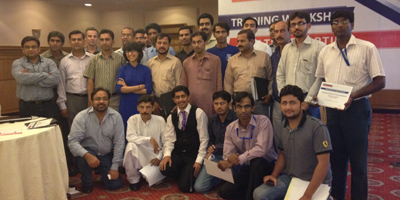 JournalismPakistan.com July 12, 2012
ISLAMABAD: The first of its kind media workshop on the coverage of sensitive issues relating to children, including their exploitation, healthcare and rights was held in Islamabad in which journalists working in the health sector made a consensus to form a journalist forum against polio.

The focus of the workshop was to promote ethical reporting on issues relating to children who remain the most vulnerable segment of the society and remain exposed to victimization and harassment even in places considered safe for them.

One of the key issues highlighted by the speakers remained related to healthcare, especially polio, which continues to remain a major problem in Pakistan – one of the only three countries of the world where this disease continues to cripple children below the age of five years.

The workshop was organized by Mishal Pakistan – a non-government organization working for creating awareness on critical issues relating to the media and journalistic ethics. The initiative was also supported by the press clubs across Pakistan.

The speakers highlighted the fact that in 2012 so far 22 polio cases have been reported in various parts of Pakistan with the highest number of victims were from Khyber Pakhtunkhwa and FATA where a total of 15 cases have surfaced.

In Sindh the number of reported polio cases is three, while in the Balochistan and Punjab provinces two polio cases each have been reported.

One of the major reasons for the polio cases in Sindh remains the influx of internally displaced people (IDPs), while in KP and FATA it is the continued conflict situation.

The trainers included senior journalist Fahad Hussain; Richard Leiby, Bureau Chief of the Washington Post, Puruesh Chaudhary, Center for International Media Ethics (CIME) Ambassador to Pakistan; Amir Jahangir, CEO Mishal Pakistan; Dr. Shamshair Ali Khan and Azmat Abbas from UNICEF Pakistan.

Speaking on the occasion, Fahad, former director news Express News and ARY TV who is now with Waqt News shared his views on how an editor's mind works. He told the participants how journalists should position their stories on social issues, especially on health and children-related topics.

Richard Leiby, said children issues should be covered with extreme care and sensitivity, ensuring their safety and privacy. He emphasized the role of a journalist in creating awareness and fighting myths which curbs basic child rights and even denies them basic immunizations including polio drops in many parts of Pakistan.

In the presentation on the health indicators, Amir Jahangir, CEO Mishal Pakistan and Young Global Leader of the World Economic Forum shared the importance of health indicators and how journalists can benefit from the WHO's World Health indicators, UN's MDGs and World Economic Forum's Global Competitiveness Index. He said that "Journalists against Polio" will play their part in creating awareness regarding the alarming situation of growing number of polio cases in the country.

Puruesh Chaudhary, Ambassador to Pakistan from the Center for International Media Ethics, a Brussels-based media think tank, highlighted the importance of media ethics in reporting on child-sensitive issues.

"Pakistani media has to play its role in bringing issues like polio into public debate," she said. "It has been researched that thousands of children missed their polio drops in the past couple of years with the worst-affected areas being in FATA and Balochistan, a high number of IDPs influx into Sindh has resulted in increased number of polio cases from Sindh especially in Karachi".

Dr. Shamshair Ali Khan representing UNICEF said Pakistan reported 198 polio cases in 2011, whereas 23 were in Khyber Pakhtunkhwa, 59 in FATA, 73 in Balochistan, 1 in Gilgit-Baltistan, 9 in Punjab and 33 in Sindh.

The World Health Assembly declared polio as a global emergency during the recently held meeting in Geneva, whereas the Government of Pakistan declared polio as a national emergency in January 2011.

The "Journalists against Polio" forum was launched by the Peshawar Press Club president Saiful Islam Saifi earlier last month and the journalists from Quetta Press Club and journalists from Lahore and Karachi have also extended their cooperation on this.

The day-long workshop was attended by health journalists from leading publications, news channels and radio stations.