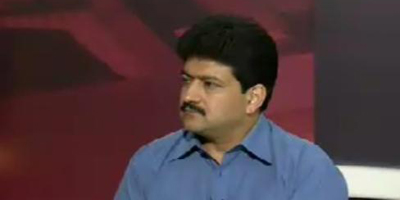 JournalismPakistan.com April 27, 2014
ISLAMABAD: Hamid Mir, who was shot in Karachi on April 19, says he has been threatened with another attack and asked to leave Pakistan, adding he blames "ISI within ISI" for the attack.
In his first interview after the attack, he told BBC Urdu that the people who tap journalists' telephones and keep an eye on their movements were responsible for the attack on him. "Only these people know which flight Hamid Mir will take…which car will pick him up and at what time he will come out of the airport. They chose a corner where CCTV camera wasn't functioning." He said people visit him as friends but leave him "threatening messages." He claimed that a highly responsible person visited him to convey the message: "I will be attacked again."
During the brief interview, whenever the interviewer asked if Mir was blaming ISI, the Geo anchorperson thrice said he was pointing towards "ISI within ISI".
He also questioned the jihadi organizations' support for the military in the wake of the controversy after the attack on him. "Worryingly banned Jihadi outfits attached to Taliban are protesting in favor of ISI."