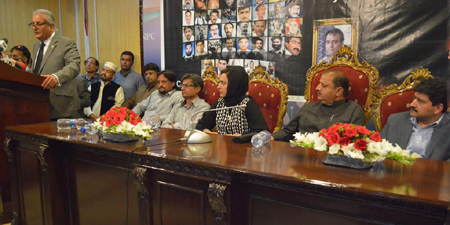 JournalismPakistan.com April 06, 2017


ISLAMABAD – Geo News presenter Hamid Mir (seated, right) who recently received the 'Most Resilient Journalist' award from the International Free Press on Thursday donated his award money of 15,000 euros to the family members of martyred journalists.
He did this at an event organized by Pakistan Federal Union of Journalists (PFUJ) to mark the Journalist Martyrs Day at the National Press Club here.
On the occasion, Minister for Information and Broadcasting Marriyum Aurangzeb said media persons have been rendering great sacrifices for the freedom of expression and democracy and the government is going to carry out legislation that would help provide them protection in the face of the growing challenges and threats.
She said when she assumed charge as minister, Prime Minister Nawaz Sharif directed her to work for legislation to provide a secure environment to journalists who have been sacrificing their lives for protecting freedom of expression and democratic system in Pakistan.
"The new law would help strengthen both Pakistan and media and create an environment where journalists will feel a sense of protection against the threats being hurled by various segments. I strongly believe that any attack on the media houses or journalists is actually an attack on Pakistan because the media industry has been protecting the national interests of this country," she said.
She said representatives of the government and the journalists' associations would hold a discussion on Monday to review all aspects of the upcoming law that would become reality in the coming days.
Lauding the sacrifices of the martyred journalists she said their struggle would not go waste and their mission would be accomplished at any cost, adding: "The war on terror being fought by the government and the media industry will continue till the elimination of each and every terrorist from the country."
Chairman of Senate Mian Raza Rabbani in his remarks said the laws are made by the governments but the issue of implementation of these laws is still one of the main problems. Therefore, all stakeholders should ensure that any law that is introduced is implemented in letter and spirit.
He appreciated the services of Hamid Mir and other media persons who faced threats but refused to bow down before those elements wanting to suppress freedom of expression.
Iqbal Khattak, a representative of Reporters Without Borders informed the participants that from December 2016 to February 2017 almost 17 journalists have been injured in various incidents while eight received death threats.
"As many as 110 journalists have been murdered out of which 80 percent were killed in the incidents of targeted killings.
PFUJ President Afzal Butt said failure to end impunity for killings and other attacks on media professionals only fuels violence against them as many of them have lost their lives in bomb attacks and target killings by organized crime barons and terrorist organizations.
"Criminal cases should not only be registered but should also be properly investigated and prosecuted against the perpetrators of violence against the media. There should be special prosecutors on violence against media at the federal and provincial levels," he said.
He urged the government to comply with its international obligations by investigating journalists' killings and bringing those responsible to justice, thus deterring future violence.
Shakeel Anjum, President National Press Club (NPC) said journalists in Pakistan have been living in a state of fear and the government should take concrete steps to ensure their protection.
Ali Raza Alvi of Rawalpindi-Islamabad Union of Journalists (RIUJ) said the journalists are unfortunately murdered, killed, detained, abducted, harassed and threatened by various elements and even political and religious groups that claim to promote democracy and rule of law in the country.
A large number of journalists and people belonging to various segments of the society attended the event.