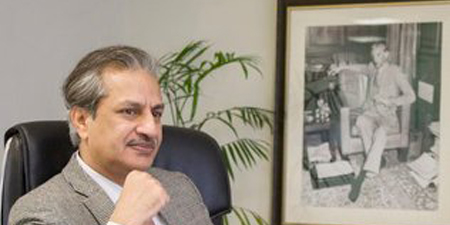 JournalismPakistan.com August 30, 2018


ISLAMABAD - Absar Alam, former chairman of PEMRA, has backed the government plan to set up a new and single regulatory media authority.
"A new regulatory authority for all media will facilitate viewers and the owners of media houses," Alam told BBC Urdu.
The federal government on Wednesday announced plans to set up a unified regulatory authority for all media, including social media.
A unified regulatory authority will be a sort of one-window for viewers and media owners where they could register their complaints and get licences, maintained Alam.
He disclosed that the work on establishing a single regulatory authority was started two-and-a-half years ago. "With the cooperation of Ofcam, we had carried out a research in this regard because the British regulatory model is appropriate for Pakistan. There is a need for a unified regulatory authority as the media houses in Pakistan have TV channels, newspaper, and online websites." Ofcam is the regulatory authority in Britain.
On the fears of restrictions on press freedom, he added if the government and its institutions are sincere, "the media will remain free."
He maintained when he talks about the intent of the government and institutions, "I am saying whether they are ready to make the press the fourth pillar of the state."
Alam said currently all editorial matters are in the hands of the owners. "Now it is in the hands of the owners to decide about the direction of editorial policy. On the other hand, every government wants friendly media. If not, the media is made friendly."
He admitted that the governments in Pakistan have resources and authority to put restrictions on press freedom.