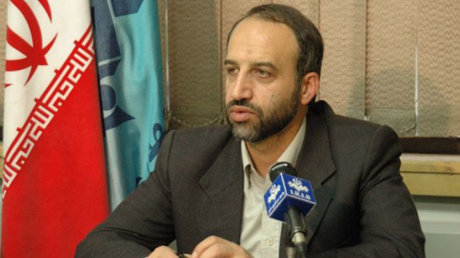 JournalismPakistan.com March 13, 2013
Press TV CEO Mohammad Sarafraz (Picture) has dismissed the European Union (EU) travel ban on him and a director of Iran's English-language news channel as "unreasonable," Press TV reports.

"A media ban has been imposed for the first time in the world, showing the irrationality of the European Union and the influence of the [Islamic Republic of Iran Broadcasting's] world service," Sarafraz said.

He pointed out that EU leaders have imposed the bans over a 10-second report about Iranian-Canadian journalist Maziar Bahari, who worked for Newsweek in Tehran.

On Tuesday, the European bloc blacklisted Sarafraz and Press TV Newsroom Director Hamid Reza Emadi for airing the interview with Bahari in 2009 following post-election riots in Iran.

Sarafraz said EU officials have given no response to Press TV questions about the imposition of the bans.
"In the text [of sanctions as published in the European Council's official journal], it has been mentioned that Ofcom, an independent medium, has banned Press TV, but it is not an independent medium because its budget is approved by the UK parliament and its chief is appointed by [a] British secretary," he noted.
"They think we, Iranians, are desperate to travel to Europe and open bank accounts in a continent which has been hit by harsh austerity measures due to economic difficulties," he said.

"These bans and restrictions are not disturbing at all because they show we have achieved our goals and how influential we have become," he added.

Sarafraz said Press TV has opened a new window for the public opinion in Europe where Capitalism has created a "hell" for people.