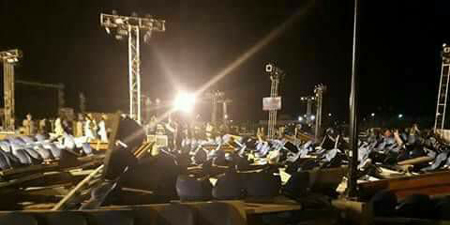 JournalismPakistan.com May 09, 2017


ISLAMABAD - A story on Urdu website of German broadcaster Deutsche Welle wondered Monday if Pakistani media ignored the collapse of a spectator stand during the recording of an ARY show in Bahria Enclave because of property tycoon Malik Riaz's influence.
Though the print media reported that more than 100 people were injured on April 28 during the recording of the show Eidi Sub Kay Liye, some tweeters like Jibran Nasir claim "innocent lives were lost".
"Critics say the news (of collapse) did not get coverage because of the place where the event was held," the story Kia Malik Riaz ki wajah say khabar dabai gai says.
It quoted tweets asking why the mainstream media not cover the collapse in which a number of people got injured, some of them seriously. One of the tweets by Pakistan Media Watch asks Malik Riaz to answer "how stage fell n how many died n injured during ARY show recording."
When DW asked Col (Retd) Khalil, staff officer of Malik Riaz, about the April 28 incident, he said: "I do not know about this incident. This was not our program and we did not arrange it. You should ask those who arranged this program. We have written a letter to them and asked for details."
The letter by Bahria, according to the story, has been written to Col (Retd) Gulfraz Malik, senior manager operations of ARY. However, when DW contacted Gulfraz, he said the program was not ARY's. "Bahria has sent letter to me by mistake…I have sent the letter to the concerned company and they will answer. I cannot answer and I also do not know about this event."
The story quotes another retired colonel, Inam Ur Rahim, introducing him as a known analyst. "I think it is wrong to say that media is free in Pakistan," Col Inam said. Quoting a report of international human rights organization, he said: "Only one percent coverage is given to human rights news by Pakistani media."
Without naming the property tycoon, Col Inam said: "You know where this stage was established. That person has given homes and plots to many journalists. This has been discussed on our media. Now it seems to me that even courts are reluctant to take action against him."
He maintained that there are 40 cases against Malik Riaz. "But no one can do anything against this property tycoon. When there is a case, he gets bail easily." He said that Malik Riaz's influence is so strong on Pakistani media that "nobody dares to speak against him".
Col Inam asked the Supreme Court to take notice of the incident so that the victims could be compensated.
Saying that Malik Riaz is a powerful personality, journalist Nasir Mehmood said the media runs on business and not on morals. "Everybody knows who gives media the most ads. Why they would go against a person who has influence in state institutions and all politicians are ready to kowtow to him."
Image courtesy: Shaheryar Hassan