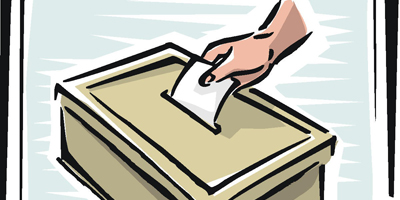 JournalismPakistan.com December 30, 2012
KARACHI: The Democrats Panel made a clean sweep of the Karachi Press Club elections Saturday with Imtiaz Khan Faran and Amir Latif being elected president and secretary respectively.
Imtiaz of daily Awam bagged 521 votes beating his rival G.M. Jamali of the Green Panel and The Panel who managed 387. Amir Latif from the Online News Network got 582 votes as against Faisal Aziz Khan's 318 for the secretary's slot.
Others elected were:
Vice President: Saeed Sarbazi (502 votes)
Joint Secretary: Shams Kerio (580)
Treasurer: Arman Sabir (559)
Members governing body: Hina Magul (616), Asif Jiaja (577), Javed Chaudhry (547), Ramzan Chandio (522), Jamshed Gul Bukhari (520), Imdad Soomro (507) and Kashif Farooqi (497).