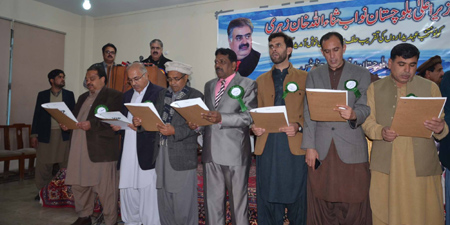 JournalismPakistan.com February 06, 2017 Adnan Aamir



QUETTA - Chief Minister of Balochistan, Nawab Sanaullah Khan Zehri, administered oath to the newly-elected office-bearers of Balochistan Union of Journalists (BUJ) Monday.
The oath-taking was held at the Quetta Press Club. BUJ is the main union of journalists in Balochistan.
Zehri congratulated the officer-bearers and said he has had relations with media persons since his youth and personally knows most of the BUJ representatives. He assured the members that all problems of working journalists in the province will be resolved soon.
Earlier, in the ceremony, President BUJ Khalil Ahmad appreciated CM Balochistan for taking time out to attend the ceremony. "We will continue our struggle for freedom of speech in Balochistan," vowed the new president.
Ayub Tareen, General Secretary, presented the list of demands on behalf of BUJ. He said that journalists in Balochistan were working in hard conditions and did not enjoy the same privileges as journalists elsewhere.
"Heirs of two journalists who lost their lives in the Civil Hospital blast last year got lesser compensation from the government as compared to heirs of lawyers," Tareen pointed out.
He demanded that 70-acre land approved by CM Balochistan for journalists housing society should be allocated soon.
Tareen requested the Chief Minister to allocate special seats for children of journalists in medical colleges, information technology and engineering universities.
Sardar Raza Barech, Advisor to CM on Information, announced on the occasion that Secretary Information and DGPR would hold a meeting with BUJ office-bearers to discuss and resolve all of journalists' problems.
Later, BUJ president presented a shield to the Chief Minister.