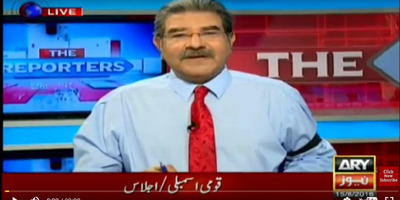 JournalismPakistan.com August 15, 2016


ISLAMABAD – Senior journalist Sami Ibrahim, host of the program The Reporters on ARY News, and two of his colleagues Monday wore black arm bands to protest a PEMRA ban on prominent analyst Dr. Shahid Masood.
Sami said that Prime Minister Nawaz Sharif had appointed his favorite Absar Alam as Chairman PEMRA who imposed the ban on Dr Shahid for speaking the truth. He said it was a pity the ban comes during the term of a government that claims it believes in freedom of expression.
The program host pointed out that perhaps the government had no answers to all the questions Dr Shahid used to highlight in his program.
The 45-day ban on the program Live with Dr Shahid Masood began Monday.