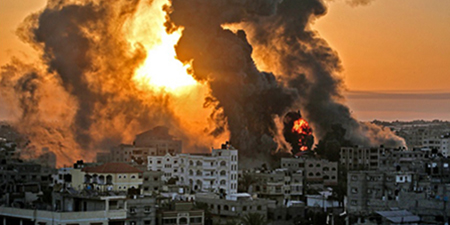 JournalismPakistan.com May 22, 2021


OKARA—The University of Okara organized an interactive webinar discussing the media coverage of Israeli attacks in Palestine along with a comparative analysis of local coverage with the international media.
Eminent academicians, scholars, and renowned journalists participated in the event with their in-depth analyses and insightful views on how media coverage helped in highlighting the issues of Palestine globally.
The participants believed that the media had played a critical role in highlighting the miseries of the Palestinian people during the recent violence in the Gaza strip. Although media coverage was a complicated process, yet Pakistani media raised awareness about the massacre and destruction in Palestine.
Prof. Dr. Muhammad Zakria Zakar, Vice-Chancellor of the University of Okara, presided over the webinar. While discussing the media of the Muslim countries, he stressed developing an independent and vibrant media. He stated that Muslim countries overlooked the importance of investing in media despite having plenty of resources. So, it is crucial to channelize media platforms for independent reporting and press freedom, he said.
While delivering the introductory note, Dr. Zahid Bilal, in charge Department of Communication Studies, said that such events were necessary to comprehend the approach and alignment of the international media over complicated world issues.
Dr. Abida Ashraf, human rights chair at Punjab University, also attended the webinar. According to her, the international media were not ensuring fair and unbiased coverage of the atrocities in Palestine. Ironically, Israel is being portrayed as a victim, whereas vulnerable Palestinians are declared as terrorists. She called for understanding global news reporting trends to understand the world's changing paradigm in information broadcasting.
Renowned journalist Mansoor Jaffar also elaborated the context of Palestine-Israel issues using a historical perspective. He stated that global media outlets to intentionally distorted facts during the latest violence in Palestine.
Journalist Aamir Hashim, explained the role of Pakistani media in engaging the youth to support Palestine. He pointed out that the media should also focus on broadcasting the issue's historical background to keep the people aware and knowledgeable.
Photo: AFP