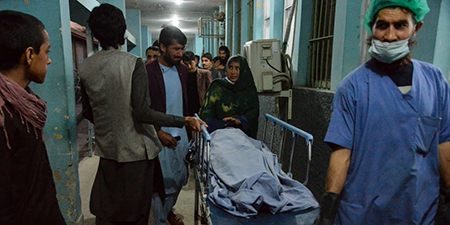 JournalismPakistan.com March 03, 2021


Three female journalists from Enikass TV were shot dead by unknown gunmen in two separate attacks as they attempted to return home from work on March 2 in Afghanistan.
The International Federation of Journalists (IFJ) and its affiliate the Afghan Independent Journalists' Association (AIJA) has strongly condemned the horrendous attack and called for urgent measures to rectify the deplorable safety situation for media workers in the country.
Mursal Wahidi, Sadia Sadat, and Shahnaz Roafi, who all worked in Enikass TV's dubbing division, were gunned down in different locations in the eastern city of Jalalabad, in Nangarhār province.
Saadia and Shahnaz were the first to be shot in Jalalabad police district one (PD1) around 4:00 pm, while Mursal Habibi was killed in police district four (PD4) within minutes of that attack. The triple murder is the latest in a string of targeted attacks on media workers, which is happening on the backdrop of US-brokered attempts to negotiate an end to the country's civil war.
Ekinass had earlier informed Afghanistan's national intelligence agency about threats to its staff but had no information of threats directed at particular employees.
On December 10, 2020, Malala Maiwand, a female TV anchor for Enikass TV and Radio, was also killed by gunmen in Nangarhar. The Islamic State (IS) claimed responsibility for the shooting, terming her a "pro-regime" journalist.
Enikass TV Director, Zalmay Latifi, said the network was accustomed to receiving threats from groups active in the region for its news coverage and had taken precautions to protect its staff.
According to AIJA, the assailants fled from the scene following the assassinations. No group has claimed responsibility for the murder but AIJA said the negligence of the Afghan security forces had exacerbated an already dire safety situation.
Afghan police later reported the arrest of a key Taliban leader in connection with the murders, but the Taliban denied its involvement in an issued statement.
Since peace talks started between the Taliban and the Afghan government in September 2020, attacks against media workers have continued to rise. The UN mission in Afghanistan has reported that at least 11 human defenders and media workers were killed in targeted attacks in Afghanistan from September 12 to January 31, 2021. IFJ monitoring has recorded six deaths of media workers since that time.
The IFJ said the killing of female media workers Mursal Wahidi, Sadia Sadat, and Shahnaz Roafi ahead of International Women Day on March 8 was particularly painful, while calling for regional solidarity.
The AIJA said: "AIJA condemns the killing and terms the attack as an attack against freedom of speech and humanity. AIJA believes that the Afghan forces' negligence regarding the assassinations led to the increased attacks on journalist and media workers."
The IFJ General Secretary, Anthony Bellanger, said: "The IFJ is alarmed by the brutal nature of these pre-meditated killings. Women journalists contend with multiple layers of threat and obstacles to their participation in the media without the threat of losing their lives on their way home from work. The Afghanistan government must intensify its efforts to protect journalists who literally risk their lives to keep the country informed."—IFJ media release/Photo: AFP